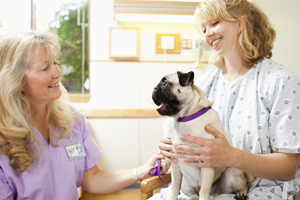 Currently, Pet Therapy volunteers are assigned to the Adult and Child Psychiatric Units, Adult Nursing Units and there is sometimes limited availability on the Pediatric units.
Stony Brook University Hospital currently accepts dogs certified through: PRAAT, TDI, Pet Partners and Love on a Leash.
Listed below is the "Frequently Asked Questions for Pet Therapy Volunteers" which will provide you with more information about the program. If you are interested in applying to the program, please reach out to Kathleen Kress prior to beginning the application process to discuss available units and shifts. Mrs. Kress can be reached at kathleen.kress@stonybrookmedicine.edu.
If it is determined that there is a shift that is mutually convenient, you will be asked to complete a Senior Volunteer Application and provide a copy of your dog's health records and proof of liability insurance.
Frequently Asked Questions For Pet Therapy Volunteers
How do I become a Pet Therapy Volunteer?
The pet therapy applicant must complete all requirements of the volunteer program prior to beginning their volunteer service. Click here for applications and information about the program. Only canines certified by Therapy Dogs International, Pet Partners Love on a Leash or PRAAT are permitted to participate in the Pet Therapy program at SBUH. Canine health records and proof of liability insurance must be submitted with the volunteer application.
Do I need to wear a uniform and/or ID badge?
Yes, all volunteers are required to be in uniform (jacket and ID badge) when reporting for volunteer service.
Volunteer uniforms are available for purchase on the volunteers first day of service. The cost of the uniform is $25. Your ID badge will also be issued on your first day of service and must be worn at all times while on duty as a volunteer.
Does my canine need to wear an ID badge or uniform?
Yes, your canine must wear the ID badge, bandana or vest that was issued by the certifying pet therapy program.
Do I need to bathe my canine prior to my volunteer visit?
Yes, you must bathe your canine within 48 hours prior to each hospital visit and ensure the canine is free from fleas and ticks.
How do I find out what departments I can work in?
Once you have received clearance to begin your Volunteer Service, you may contact the Nursing Units that have expressed an interest in receiving Pet Therapy visits. A listing of the participating units will be provided to you by Volunteer Services. Not all Nursing Units participate; you may only reach out to listed units.
Volunteers associated with PRAAT will have their visits scheduled through the PRAAT liaison.
Can I visit any patient on the participating unit?
No, the unit supervisor designated to coordinate Pet Therapy visits will identify which patients are appropriate to visit.
Does my canine need to be kept on a leash?
Yes, canines must be leashed and under the handler's control at all times.
What if my canine becomes ill before, during or after a visit?
If a canine develops any sign of illness or mental distress, they will be excluded from the Pet Therapy program. In the event of a pet death, a veterinarian must determine the cause of death and when the cause of death is determined to be infectious in nature, the Healthcare Epidemiology Department at SBUH must be notified.
What happens if my canine urinates or defecates while in the hospital?
Immediately notify the unit supervisor. Spills of urine and/or stool from the canine are treated as contaminated and cleaned accordingly.