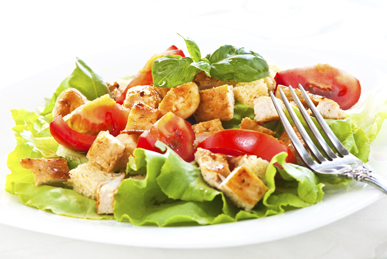 Welcome
Our team of dedicated professionals looks forward to providing you with an exceptional dining experience whether you are a patient, visitor, or staff member. We pride ourselves with being the #1 hospital for patient satisfaction with our "Distinguished Dining" patient dining program. We offer quality service and products at all of our dining facilities and also provide onsite and offsite catering.
The Market Place Café is a great place to join us any day of the week for breakfast, lunch, or dinner. Try one of our scrumptious entrees or our fresh hand-packed burgers, our gourmet pizza or try any one of our Executive Chef's Signature creations at the Mélange Station. We also offer made-to-order pancakes, waffles and egg sandwiches for breakfast. Don't forget to ask about the SBUH Flexible Spending Account.
The Skyline Deli offers a wide variety of delicious made to order wonderful sandwiches over stuffed with freshly sliced Boar's Head meats and cheeses. Try any one of our gourmet specialty salads to accompany your sandwich.
Starbucks provides freshly brewed coffee and a wide variety of sandwiches, salads, and pastries.
Patient Distinguished Dining is offered to patients admitted to Stony Brook University Hospital. Modeled after the "Room Service" delivered in hotels, patients order what they want to eat when they want to eat. Within 45 minutes a food service ambassador delivers the patient's freshly made meal. Room service is offered between the hours of 7am and 7:30pm by calling 4-2900 or 8-DINE.
Catering Services are provided on or off site. Our extensive catering menu provides a variety of options. Call 4-5069 or 444-1441.