Telehealth Services Make Access to Quality Healthcare Easier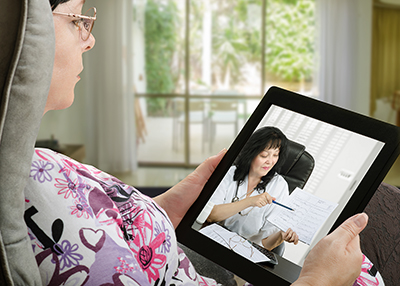 With increased mobility and connectivity come the expectation of easier access to just about everyone in our lives — including our healthcare providers. It's just a matter of time before new options are available for how our healthcare is managed. Imagine having access to home monitoring, virtual visits from your doctor, quick electronic transmission of your medical information, and interactive patient self-management tools.
Collectively known as telehealth or telemedicine, the use of these high-tech methods is something that many people — especially those in more remote or isolated areas — welcome. At Stony Brook Medicine, it's more than a concept. It's becoming a reality.
Stony Brook Medicine Telehealth is based on the belief that all patients should benefit from the same quality standards of care. Geographic location, public transportation, inaccessibility and lack of a provider nearby for a particular specialty service will no longer be a barrier to receiving timely and efficient quality care. This will be especially attractive for the communities Stony Brook now serves as a result of its partnership with Stony Brook Southampton Hospital and our growing affiliation with Eastern Long Island Hospital.
For those who have been recenty discharged from a hospital stay, it's also welcome news. That's because through a research pilot in home monitoring, Stony Brook Medicine Telehealth is helping to ensure patients' successful return home and prevent emergency room visits and readmissions to the hospital. Video conferencing with Stony Brook Medicine physicians is also in development across various specialties.
Physician-to-physician communication is another benefit of the telehealth method of managing healthcare. Several Stony Brook Medicine physicians are using video conferencing with community physicians who seek out second opinions for difficult cases, early evaluations, transfers, procedures, or for a professional consultation for education purposes.