Growing Telehealth Services Make Access to Quality Healthcare Easier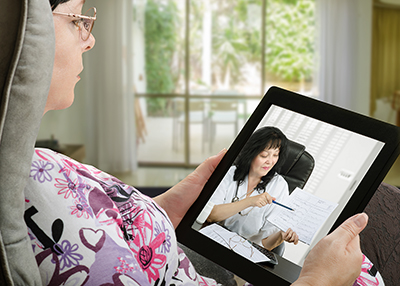 Imagine not having to take off time from work to drive a long distance to be seen for a routine follow-up visit with your physician when there's an alternative that can be just as effective. Well, imagine no more. The future is on its way. Stony Brook Telehealth is a service that's already begun to roll out at Stony Brook Medicine and will be especially attractive for the communities Stony Brook now serves as a result of its partnership with Stony Brook Southampton Hospital and our growing affiliation with Eastern Long Island Hospital.
Telepsychiatry service launched in Amagansett
Now you can videoconference remotely with your physician in real time. Stony Brook's recently launched telepsychiatry service in Amagansett is the perfect example of this. It allows patients to be "seen" in real time by a Stony Brook psychiatrist for therapy or medical management sessions. The psychiatrist also works hand in hand with the patient's primary care physician to ensure that the care is coordinated. This remote videoconferencing telepsychiatry service is expected to grow in the coming months to other East End locations and at integrated Stony Brook Medicine sites. (An integrated site is where primary health care and mental health care services are provided in one setting for your convenience.)
Pilot study in home monitoring
Telehealth is also being used for those who have been recently discharged from a hospital stay at Stony Brook University Hospital. It's helping to ensure patients' successful return home and prevent emergency room visits and readmissions to the hospital. Through a research pilot in home monitoring, participating patients are provided with kits that include a touch-screen tablet, blood pressure monitor, pulse oximeter and scale. The purpose is to study the effectiveness of different methods of treatment post-hospitalization. To date, 90 percent of patients enrolled in this study have successfully adhered to their prescribed medication and program requirements.
Physicians also use telehealth to communicate with each other
Physician-to-physician communication is another benefit of the telehealth method of managing healthcare. Several Stony Brook medicine physicians are using videoconferencing with community physicians who seek out second opinions for difficult cases, early evaluations, transfers, procedures, or for a professional consultation for education purposes.
Stony Brook's mobile stroke units to incorporate the use of telehealth
Another big step in Stony Brook's use of telehealth will come in March 2019, when it launches Long Island's first mobile stroke unit program. Each unit will be equipped with telehealth capability to Stony Brook University Hospital. This will allow Stony Brook Medicine physicians at the hospital to determine if a person has a blocked vessel or bleeding in the brain. Once that is determined, the stroke first responders onboard the mobile stroke unit can begin administering time-sensitive, advanced stroke treatments while the person is en route to the nearest hospital that can provide them with the appropriate level of care. For more information, telehealth@stonybrookmedicine.edu.