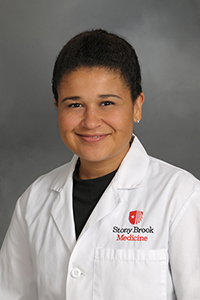 Welcome to our Stony Brook Telehealth site
Telehealth offers opportunities to improve healthcare by providing unprecedented ways of connecting patients and clinicians.
It improves access to care, promotes efficiency of service and raises patient satisfaction. A robust Telehealth program, using innovative technology and advanced data analytics, has the opportunity to promote better value in how we deliver healthcare to our patients, while increasing access to our leading clinicians. It also helps reduce the costs of unnecessary transports, hospital readmissions and visits. This helps to ensure adequate follow up and better patient adherence to a prescribed treatment plan, which potentially improves health outcomes.
The recent welcoming of Stony Brook Eastern Long Island Hospital and Stony Brook Southampton Hospital into the Stony Brook Medicine Healthcare System family, provides unique advantages for adopting Telehealth. With these new geographic expansions, our patients reflect more diverse and widespread populations. Telehealth offers the opportunity to connect specialists from our academic medical center to clinical settings out on the East End, for care that might not otherwise be available. Also, the transfer of patients among the hospitals in our system can now be facilitated with the use of Telehealth technology. A strong telehealth infrastructure can safeguard that all patients, regardless of location, can benefit from the same great quality of care.
In the past year, we have launched our Mobile Stroke Unit Program, as well as our Telepsychiatry, Teleneurology and Pediatric Telehealth Transport services.
We are also proud to announce that we are members of the American Telemedicine Association, which brings together the top minds in telehealth.
I invite you to explore the pages of our website to learn more about Stony Brook Telehealth and how embracing it can benefit you whether you're a patient, clinician, researcher or student.
Sincerely,
Kimberly Noel, MD, MPH

Stony Brook Medicine Telehealth Director/ Deputy Chief Medical Information Officer
Patient Centered Medical Home Chief Quality Officer, Family Medicine
Occupational and Employee Health & Wellness Physician
Clinical Assistant Professor of Family, Population & Preventive Medicine
Stony Brook University Hospital