Need Health Insurance?
Do you or anyone in your family need health insurance?
Would you like to know if you are eligible for no or low-cost health insurance?
If so, call Stony Brook University Hospital HealthConnect® at (631) 444-4000 to have a Child Health Plus/Family Health Plus Enroller contact you.
Our Enroller will:
Describe the Child Health Plus, Family Health Plus, and Medicaid programs' benefits;
Help determine your eligibility for these health insurance programs; and
Assist you, if you are eligible, in completing your applications for these programs.
Website Helps Uninsured Secure Health Insurance: https://www.healthcare.gov/

Your Hospital Bill
Click here to view an example of a Stony Brook University Hospital bill. As you roll your cursor or mouse over the bill a description of each section will appear. If you have received one of these bills and have questions about it, you can call (631) 444-4151 during office hours (Monday - Friday, 8 am - 6 pm).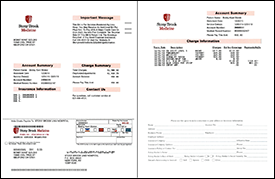 If you have received a Hospital bill from Stony Brook University Hospital and would like to pay online, please visit the payment portal below.

Prior Approval and the Pre-Authorization Process
If you have managed care insurance and wish to be seen at Stony Brook University Hospital you must obtain a referral from your Primary Care Physician. Some services, for example Radiology and Therapy services, may require pre-authorization from your insurance company prior to your patient visit, test or procedure. You should refer to your insurance handbook or speak to your insurance carrier regarding pre-authorization policy and procedure.