IMPORTANT MESSAGE FOR PATIENTS INSURED BY HEALTH REPUBLIC — On Oct. 30, 2015, the New York State Finance Department's Insurance Division announced that Health Republic will not be honoring healthcare claims for dates of service after Nov. 30, 2015. Health Republic enrollees MUST enroll in another plan by Nov. 15, 2015, if they want health insurance coverage to be in place starting Dec. 1. Health Republic members who switch to another plan AFTER Nov. 15 will NOT be covered for December 2015. At this time, Stony Brook University Hospital and its affiliated physicians participate with the EmblemHealth Select Care plan on the health exchange ("Marketplace" or "Affordable Care Act"). This means that, for the present, if you want your healthcare at Stony Brook Medicine to be covered by your health exchange insurance, you must enroll in the EmblemHealth Select Care plan. You can choose a replacement health exchange plan on the New York State of Health Exchange Marketplace, either online or by contacting one of its telephone representatives. Also, you may use the services of a health exchange "navigator" such as the Nassau-Suffolk Hospital Council, whose services may be obtained at (631) 435-3000.
Please keep in mind, also, that a Health Republic enrollee who switches to another plan on or before November 15, 2015, is enrolled for December 2015, ONLY. He or she will have to complete another, separate enrollment if he or she wishes to remain with the new plan for calendar year 2016. You should ask about this when you contact the Marketplace or a navigator.
Stony Brook Medicine Reaches Agreement with EmblemHealth to Include Exchange Plan
STONY BROOK, NY, October 20, 2015 — Stony Brook University Hospital and EmblemHealth have reached a provider services agreement effective November 1, 2015, resulting in in-network coverage through EmblemHealth's Select Care Network, for thousands of Long Islanders who are participating in health exchange plans under the Affordable Healthcare Act.
Over the past several months, Stony Brook has been in active discussions with several healthcare exchange providers in an effort to reach an agreement that is both beneficial for patients and fiscally responsible for Stony Brook and the insurance carrier. This agreement will allow members of this Exchange plan network to visit Stony Brook as part of their in-network coverage options.
"We are pleased to have been able to amend our existing agreement with EmblemHealth which will allow thousands of Long Islanders who are enrolled in its Select Care Network to access Stony Brook University Hospital and its physicians on an in-network basis," said L. Reuven Pasternak, MD, Chief Executive Officer, Stony Brook University Hospital, and Vice President for Health Systems, Stony Brook Medicine. "It supports New York State's mission to offer affordable care to our patients in a manner that is consistent with Stony Brook's core mission as the safety net provider for the area and source of specialized and unique care for populations at risk."
The open enrollment period for selecting or changing Exchange plans on the New York State of Health Marketplace will begin on November 1, 2015.
NOTE: For the most accurate information on what insurance plans will cover, please consult the insurance carrier directly. Stony Brook University Hospital supports the goal of universal affordable care and invites dialogue with additional plans in the New York State health insurance exchange. In the meantime, Stony Brook has been working with patients in those plans in need of our special services through individual negotiations with their respective exchange/insurance carriers. Patients in need of assistance should call the Stony Brook University Hospital Healthcare Teleservices Office at (631)-444-4392; each caller will be guided by an expert in the Managed Care Department.
Need Health Insurance?
Do you or anyone in your family need health insurance?
Would you like to know if you are eligible for no or low-cost health insurance?
If so, call Stony Brook University Hospital HealthConnect® at (631) 444-4000 to have a Child Health Plus/Family Health Plus Enroller contact you.
Our Enroller will:
Describe the Child Health Plus, Family Health Plus, and Medicaid programs' benefits;
Help determine your eligibility for these health insurance programs; and
Assist you, if you are eligible, in completing your applications for these programs.
Website Helps Uninsured Secure Health Insurance: www.coverage4healthcare.com

Your Hospital Bill
Click here to view an example of a Stony Brook University Hospital bill. As you roll your cursor or mouse over the bill a description of each section will appear. If you have received one of these bills and have questions about it, you can call (631) 444-4151 during office hours (Monday - Friday, 8 am - 6 pm).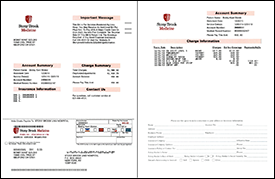 Prior Approval and the Pre-Authorization Process
If you have managed care insurance and wish to be seen at Stony Brook University Hospital you must obtain a referral from your Primary Care Physician. Some services, for example Radiology and Therapy services, may require pre-authorization from your insurance company prior to your patient visit, test or procedure. You should refer to your insurance handbook or speak to your insurance carrier regarding pre-authorization policy and procedure.
Stony Brook University Hospital has a Financial Assistance Program to assist patients who have a limited income, no health insurance, or are underinsured and have difficulty paying for services provided. The Hospital's financial assistance program provides discounts to qualifying individuals based on income. Patient whose income is below 400% of the Federal Poverty Level may be eligible for a discount.


Click Here
to download
a pdf version of
the application.


Haga clic aquí
para
descargar una
versión en formato
PDF de la aplicación.
| | |
| --- | --- |
| Family Size | 400% |
| 1 | $48,560 |
| 2 | $65,840 |
| 3 | $83,120 |
| 4 | $100,400 |
| 5 | $117,680 |
| 6 | $134,960 |
| 7 | $152,240 |
| 8 | $169,520 |
If you believe you may qualify please contact the Financial Aid Unit at 631-444-4331 for an application. Financial assistance applications may also be obtained at the cashier in the Emergency Department, the main cashier on Level 5 of the Hospital or at the Patient Accounts Office at 31 Research Way in East Setauket.
The Hospital's Financial Assistance Program is not intended to be a substitute for available insurance coverage. If you are currently covered by an insurance plan please forward the information to our Customer Service staff at 631-444-4151 to ensure your insurance is billed appropriately.
In addition, you may be eligible for insurance coverage under the Medicaid program. Medicaid is a federal and state funded program that provides medical assistance to low income residents or those on public assistance. Please call your nearest Suffolk County Department of Social Services Medicaid Center to request a Medicaid application.
Riverhead Center: 631-852-3710
Hauppauge Center: 631-853-8730
If you cannot pay your bill, regardless of whether you qualify for Medicaid or financial assistance, you may be eligible for a payment plan. Please call 631-444-4140 to speak to a representative to establish a payment plan.