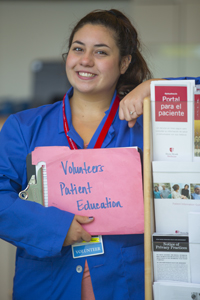 Updated: July 2, 2021
Volunteers are an integral part of hospital team and make a difference in the lives of our patients. As a result of declining incidence rates of COVID-19 both within our healthcare system and across Suffolk County, we are delighted to be able to bring back a limited number of Senior volunteers this summer. These are volunteers who are already known to Stony Brook University Hospital (SBUH) that will follow COVID-19 safety guidelines, as well as undergo daily temperature checks and COVID-19 symptom screening. We are excited to welcome their return to SBUH.
We hope to further open recruitment to new applicants this fall. When new information is available, we will post it here.
If you have any questions, please call 631-444-2610 or email Volunteer Services at volunteerservices@stonybrookmedicine.edu
Thank you.
Become a Stony Brook University Hospital Volunteer! Volunteering is a rewarding and enjoyable experience that offers a unique opportunity to enrich one's life while helping others.
Becoming a valued member of the Stony Brook University Hospital community and providing help in caring for those who must spend time in the hospital can be deeply satisfying. But beyond that, volunteering at Stony Brook University Hospital provides much-appreciated assistance in the day-to-day work that contributes to the well-being of patients and their families.
Each year, over 600 people volunteer their time and efforts in almost every area within the hospital.
Volunteer assignments are available seven days a week between 7:00am and 8:30pm.
What's Needed to Become a Volunteer
Individuals willing to donate a minimum of three hours a week for at least eight months or a total of 100 hours are encouraged to become Stony Brook University Hospital volunteers. Volunteer opportunities extend to people of all ages including middle and high school students as young as 14, as well as college students who may be seeking ways to serve the community, while at the same time exploring their own career options.
Volunteers between the ages of 14 and 17 are enrolled as junior volunteers. Volunteers who are 18 years of age or older are considered senior volunteers.
Before you are accepted into the program, you must:
complete an application which includes a medical reference signed by your physician
attend an orientation program
receive a medical clearance from SBUH Employee Health Service
Senior Volunteers are required to undergo a background check.
All volunteers will be recruited and assigned in accord with the State University of New York's equal opportunity, affirmative action, and labor relations policies without regard to sex, race, religion, national origin, age, physical disability, or marital status.
Please note that volunteer services will not accept walk-in correspondence or applications. If you have additional questions about the Stony Brook University Hospital Volunteer program call (631) 444-2610 or e-mail volunteerservices@stonybrookmedicine.edu.
---