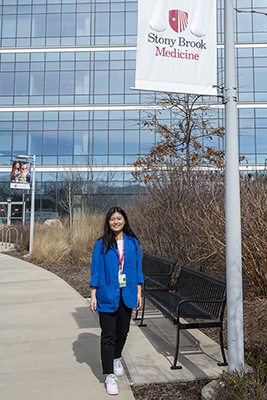 We are excited to announce that we have limited availability for Senior volunteers (18 years and older). Please review the available list of assignments and confirm availability of posted shifts with the departmental supervisor. Once an assignment has been established, please begin the application process. A link to the application is available in the side column of this page.
Please submit your application no earlier than 6 weeks prior to your anticipated start date. Portions of the application are time sensitive and can expire resulting in the need to re-submit. Please visit our FAQs page for time frames for applying.
At this time, we are not accepting Junior Volunteers (14-17yrs). Changes to the program will be posted on this page.
If you have any questions please call 631-444-2610 or email Volunteer Services at volunteerservices@stonybrookmedicine.edu
Thank you
Become a Stony Brook University Hospital Volunteer!
Volunteering is a rewarding and enjoyable experience that offers a unique opportunity to enrich one's life while helping others.
Becoming a valued member of the Stony Brook University Hospital community and providing help in caring for those who must spend time in the hospital can be deeply satisfying. But beyond that, volunteering at Stony Brook University Hospital provides much-appreciated assistance in the day-to-day work that contributes to the well-being of patients and their families.
What's Needed to Become a Volunteer
Individuals willing to donate a minimum of three hours a week for at least eight months or a total of 100 hours are encouraged to become Stony Brook University Hospital volunteers. Volunteer opportunities extend to people 18 years or older.
Volunteers who are 18 years of age or older are considered senior volunteers.
Before you are accepted into the program, you must:
submit an application which includes a medical reference signed by your physician

complete our online orientation program
receive a medical clearance from SBUH Employee Health Service
Senior Volunteers are required to undergo a background check.
All volunteers will be recruited and assigned in accord with the State University of New York's equal opportunity, affirmative action, and labor relations policies without regard to sex, race, religion, national origin, age, physical disability, or marital status.
Please note that volunteer services will not accept walk-in correspondence or applications. If you have additional questions about the Stony Brook University Hospital Volunteer program call (631) 444-2610 or email volunteerservices@stonybrookmedicine.edu
---