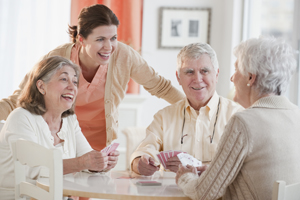 Do you enjoy socializing with older adults, playing cards, reading or helping others? Then we want you!
We are launching a new program called HELP and are looking for individuals who are interested in helping our older patients improve their quality of life while in the hospital. If you enjoy working with older people, then you may be interested in learning how to become a HELP volunteer.
HELP stands for Hospital Elder Life Program. The goals of the program are to help patients maintain their mental and physical function while in the hospital, have an optimal level of independence at discharge, and to prevent an unplanned visit back to the hospital. This program uses different activities and techniques to help patients be aware of their surroundings and stimulate healthy thinking. Your role is important in carrying out these activities at the bedside with the patients. There are two shifts available: 9 am to 1 pm or 2 pm to 6 pm - Monday through Friday.
As a volunteer in our HELP program you would be expected to:
Visit the patients enrolled in the HELP program
Engage in activities such as walking with the patients, playing games/cards, talking or reading to the patients
Provide support and companionship for older patients and their families
Help them order meals, open meal containers
Assist them to be comfortable in their room by adjusting TV channels or with the use of the phone in their room.
Prior to beginning service, you must complete the Hospital Volunteer Application process and and you must be available to attend an 8 hour training session.
If you are excited about what you have read, please complete the Prospective Volunteer Screening form and someone will contact you regarding shift availability and training dates.
Please complete the following form if you are interested in the HELP program.