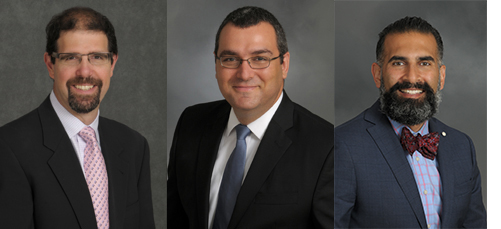 Our surgical oncologists provide care for patients with cancers or complex problems of the gastrointestinal (GI) tract. These specially-trained surgeons direct the preoperative evaluation, definitive operative treatment, and long-term postoperative care of patients.
Our surgical oncologists specialize in the treatment of a wide range of conditions, including malignant and benign tumors of the esophagus, stomach, pancreas, bile ducts, small intestine, and liver.
They are experts in laparoscopic and other minimally invasive surgical methods and also in regional therapies for advanced cancers, such as cytoreductive surgery and HIPEC for abdominal tumors (see patient testimonials).
In addition, they are experts in robotic procedures; for example, the robotic Whipple procedure for pancreatic cancer. Our team of specialists in robotic cancer surgery performed the first totally robotic Whipple procedure ever done on Long Island (read more).
In 2018, Stony Brook University Cancer Center was designated by the National Pancreas Foundation (NPF) as a Pancreatic Cancer Center. The NPF designation is a respected seal of approval.
Using a fully integrated multidisciplinary approach to the treatment of cancer, our surgical oncologists work closely with Stony Brook's radiologists, pathologists, radiation oncologists, medical oncologists, and gastroenterologists.
Their patient care team includes physicians who provide direct diagnostic and therapeutic care, surgery nurse specialists, and ancillary support staff who ensure that patients achieve the maximum benefit from their therapies.
Our participation in national clinical trials allows us to use the latest in therapeutic advances for the care of different cancers, and this gives our patients the only opportunity available in Suffolk County to benefit from such studies, if they wish to participate in them.
As leaders of the Stony Brook Cancer Center, our surgical oncologists are committed to providing the most sophisticated, compassionate, and timely surgical oncology services.