Our Podiatric Surgery Service provides evaluation and treatment of the foot and ankle, both in the hospital and on an outpatient basis through our experienced board-certified podiatrists.
SCHEDULE AN APPOINTMENT TODAY: 631-638-2800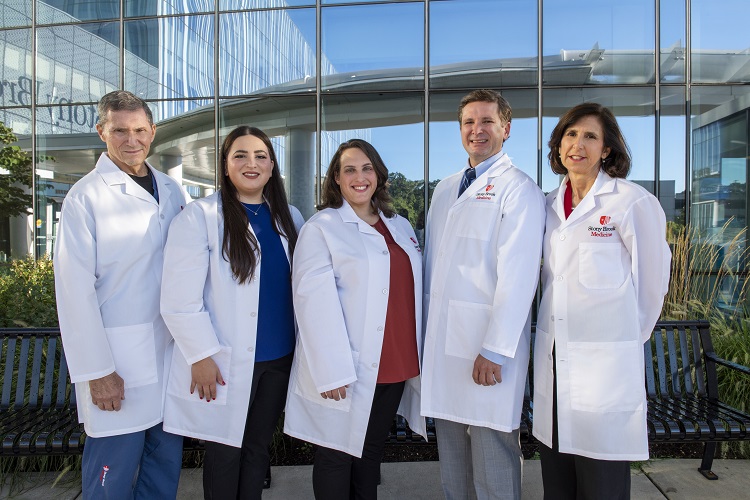 (Left to Right) Dr. Bernard F. Martin, DPM; Dr. Christina F. Nawabi, DPM; Dr. Erin M. Kunz, DPM;
Dr. Christopher M. Schroeder, DPM; Dr. Wendy R. Young, DPM
Want to Learn More?
---
Commack
500 Commack Road, Suite 102 Entrance A
Commack, NY 11725
Surgical Care Center
37 Research Way
East Setauket, NY 11733
Holbrook
280 Union Avenue
Holbrook, NY 11744
Smithtown
222 Middle Country Road, Suite 209
Smithtown, NY 11787
For more information, or to schedule a consultation with a physician, please call 631-638-2800.
---
---
The following is a comprehensive, but not all-inclusive, list of conservative and/or surgical services our board-certified* foot and ankle podiatric surgical specialists provide at Stony Brook Medicine.
* Board certification in foot and ankle surgery is granted by the American Board of Foot and Ankle Surgery (ABFAS) & American Board of Podiatric Medicine (ABPM). Certification indicates that a podiatrist demonstrates a cognitive knowledge and clinical practice of podiatric surgery, including the diagnosis of general medical problems and surgical management of foot and ankle diseases, deformities, and/or trauma and those structures which affect the foot, ankle and leg.
Amputations
Athlete's foot
Bone spur removal
Bunion surgery
Corns and calluses
Diabetic examinations, neuropathy, ulcerations
Flat foot management and surgery
Foot arthritis
Fracture management
Fungal nail infection
Gout
Hammertoe repair
Implant implantation
Ingrown nail

Limb salvage
Nail procedures
Plantar fasciitis management and surgery
Plantar plate repair
Plantar warts
Skin flaps and grafts
Soft tissue mass management and removal
Skin lesions, foreign body, neuroma, ganglion cysts, abscess
Surgical cyst removal
Surgical Joint Repair
Surgical joint repair/removal
Tendinitis
Tendon lengthening, repair and transfer
Wound debridement