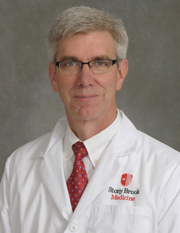 If you need surgery, why should you consider an academic medical center? The answer is clear: to be in the place where the newest and the best surgery is being developed, practiced, and taught. And to be cared for by a team of the brightest, most engaged minds in medicine.
This is what patients get at Stony Brook, where we are committed to innovation. Our team is always asking, "How can surgery be better?"
The physicians and other healthcare professionals of Stony Brook Surgical Associates — the clinical practice of the Department of Surgery — provide comprehensive care for both adults and children with a wide variety of problems requiring surgery.
In keeping with Stony Brook Medicine's mission of excellence in patient care, we offer specialized surgical services with several clinical programs and facilities unique in Suffolk County.
Our physicians are recognized for clinical excellence by Castle Connolly Medical, New York Magazine, and Best Doctors® — and for this we're proud of them.
Our physicians are dedicated to maintaining the highest standards of surgical expertise, as well as to placing the welfare and rights of patients above all else. View our faculty directory by specialty.
Our patient stories tell why our clinical services are special, and why patients come to us with special health needs. In fact, some of our patients travel thousands of miles for the care we provide, because only a few surgeons in the world offer it.
As important new procedures — in particular, minimally invasive procedures — are developed, our physicians lead the way in performing them. And as scientists, they also are doing innovative research and translating their discoveries into improved patient care.
The operating suites at University Hospital are equipped with the latest technology that enables us to give patients the most sophisticated surgical care available today. We also have Stony Brook Medicine's first off-site OR for outpatient surgery done by our faculty with offices at Nicolls Professional Park.
We have multiple practice locations throughout Suffolk County, including Stony Brook, East Setauket, Smithtown, Centereach, Patchogue, Hampton Bays, and Southampton, where we provide outpatient services and also perform a range of outpatient procedures. In 2017, we opened our new office at Advanced Specialty Care in Commack.
Together, our specialized surgical services contribute to the unique range and top quality of healthcare provided by Stony Brook Medicine. Our patients can expect the excellence and innovation of Stony Brook Surgical Associates.
Mark A. Talamini, MD, MBA
Professor and Chairman of Surgery
Chief, Surgical Services, Stony Brook Medicine
"Five Questions" Video with Dr. Talamini
---