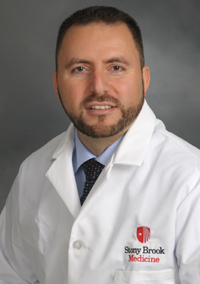 Have you ever wondered what that bulge is in your groin, belly button, upper belly, or at the old scar in your belly?
Have you had it checked by a physician? Did a relative or friend tell you it might be a hernia?
Did you know you can have a hernia repaired by a procedure with a low complication rate, with slim to no chance of the hernia ever coming back, very low chronic pain rate, and no need for mesh?
Maybe you have heard that someone had a hernia repaired but it came back, or they had ongoing pain after the repair. Finding good answers to questions about hernias and the different methods of repairing them can be a challenge.
Here, Samer Sbayi, MD, of the Stony Brook Center for Abdominal Core Health and Complex Hernia Repair, answers frequently asked questions about hernias and the famous Shouldice repair. An experienced Shouldice-trained surgeon, Dr. Sbayi has performed the Shouldice procedure for over 700 patients (as of 2018; see patient testimonials).
Q: What is a hernia?
A: A hernia is a weakness in your abdominal muscles that allows for a bulge that you may or may not see.
Sometimes what prompts a clinical exam by the doctor is pain, or a vague ache. This will likely compromise your ability to do the normal physical activity that you normally can accomplish.
Your employer will likely be very concerned in your ability to do your job successfully in your current condition, and will encourage you to have this taken care of or at least examined by a surgeon. You may actually be put on leave till this is addressed to their satisfaction.
We don't know the reasons for the weakness in the muscle that generates this condition, but we are very good at diagnosing it. You may need further imaging with an ultrasound or another x-ray like a CT scan to better see what is going on.
Q: How are hernias repaired?
A: Repairs, however, are many, and mostly use mesh (or a screen or patch). They can be laparoscopic (small-hole surgery with camera) or just an open procedure with one incision. Recurrence rates can vary from 4% to higher than 15%. The same also goes for chronic pain after the repair. Your surgeon should discuss this possibility as part of the consent process.
Q: Is it possible to live with a hernia and avoid repair?
A: Yes, but it may not appeal to your liking when you look in the mirror. More important, it will likely compromise your daily activity, prevent you from keeping your job because of your inability to complete your tasks, and prevent you from playing with your children or grandchildren, or participating in extracurricular activities, competitive and non-competitive. And you may be at risk of it progressing and strangulating, which can be very dangerous. Strangulated hernias can be fatal; they are surgical emergencies.
The Shouldice repair has proven to be exceptionally safe, secure, and reliable.
Q: What is the Shouldice hernia repair?
A: The Shouldice repair is named after Dr. Edward Earle Shouldice (1890–1965), the Canadian surgeon who invented the technique in the 1940s. The repair is based on the Bassini repair with some modification. The Bassini repair, named after Dr. Edoardo Bassini who developed it in the 1880s, was the first efficient repair for inguinal hernia.
Dr. Shouldice developed his repair during World War II to help men who were unable to enlist in the military because of their hernias. His method improved surgical results and reduced recovery time, quickly restoring the recruits to physical fitness for military training.
The procedure involves repair of your muscles using permanent sutures (no mesh, patch, or screen). It is done with intravenous sedation, not gas anesthesia. It is also done with local anesthetic injected into the skin to numb up the surgical site during and for a few hours after the surgery.
Q: Why do patients seek out the Shouldice repair?
A: It is performed with no mesh. Very few cases would require mesh. The repair also provides quality measured by low recurrence, low chronic pain, and low infection rates.
In fact, at Shouldice Hospital where I was trained in the procedure, the recurrence rate is only about 1% and the chronic pain rate is 3 in 1,000 patients at 3 years and 6 per 1,000 patients at 10 years follow-up. The infection rate is about 0.3%.
Q: What types of hernias can be treated with the Shouldice repair?
A: The Shouldice repair is used to treat a variety of external abdominal wall hernias, including indirect and direct inguinal hernias, recurrent hernias, femoral hernias, epigastric hernias (also called ventral hernias), incisional hernias, Spigelian hernias (also called lateral ventral hernias), and umbilical hernias.
There are other types of hernia for which the Shouldice repair is not used, such as hiatal hernias and parastomal hernias. These are treated in other ways.
The Shouldice repair is associated with low rates of recurrence and chronic pain.
Q: How long does the Shouldice repair take to perform?
A: Generally, the surgery takes about 45 minutes.
Q: Is there pain after having the procedure?
A: The pain after surgery is managed with over-the-counter Tylenol and ibuprofen. This surgical pain improves each day and significantly lessens the further out you are from surgery.
Q: How long is the hospital stay following a Shouldice repair?
A: We plan to discharge patients the same day of their surgery, avoiding a hospital stay.
Q: What are the restrictions after surgery?
A: There are no weight or lifting limitations after surgery. We recommend getting back to activity as soon as you are able. You may return to work in less than a week if it isn't a very laborious job, or be set up for light duty for a short period of time. You can return to exercise and sports as soon as you are able.
Yes, you judge when and how much you can do. Yes, it is very difficult to break the repair. Yes, this is ideal for athletes and very labor-driven jobs.
The Shouldice repair is meant to recover your muscle function to do what you need to do. Recovery back to what normal used to be for each individual patient can vary from four to eight weeks, but you are certainly active in the interim until you feel you are where you need to be. Although you may resume activities during this time, your body still continues to recover.
That means you are back to work, exercise, muscle conditioning for competitive sports, and progressing back to normal work duties. Remember, you had surgery and need some recovery time.
Q: Does body weight affect a hernia repair?
A: Yes. The Shouldice repair has demonstrated continued success for over 70 years as practiced at Shouldice Hospital in Canada, if the patient has acceptable weight for their height. Weight is a very important factor.
If the patient's body frame is large, we can relax on the increased weight, but if it is small, then weight becomes a problem.
Small body frame in and of itself isn't an issue for the repair, but is looked at when examining a patient's weight. Hence, small body frame and not overweight is encouraging, but small body frame and overweight needs to have weight loss.
Large body frame better distributes the body weight because of the larger frame, but weight is still strongly considered during the discussion.
Overweight poses a potential risk for recurrence, bleeding, infection, and chronic pain. The following table used at Shouldice Hospital (founded by Dr. Shouldice) shows ideal weights for height and body frame size:
For Men

| | | | |
| --- | --- | --- | --- |
| Height | Small | Medium | Large |
| 5'2" | 148 lb | 155 lb | 166 lb |
| 5'3" | 150 lb | 158 lb | 170 lb |
| 5'4" | 152 lb | 161 lb | 174 lb |
| 5'5" | 155 lb | 164 lb | 178 lb |
| 5'6" | 158 lb | 167 lb | 182 lb |
| 5'7" | 161 lb | 170 lb | 186 lb |
| 5'8" | 164 lb | 173 lb | 190 lb |
| 5'9" | 167 lb | 176 lb | 194 lb |
| 5'10" | 170 lb | 180 lb | 198 lb |
| 5'11" | 174 lb | 184 lb | 202 lb |
| 6'0" | 178 lb | 188 lb | 207 lb |
| 6'1" | 182 lb | 192 lb | 212 lb |
| 6'2" | 186 lb | 197 lb | 217 lb |
| 6'3" | 190 lb | 201 lb | 221 lb |
| 6'4" | 194 lb | 205 lb | 225 lb |
| 6'5" | 198 lb | 209 lb | 229 lb |
| 6'6" | 204 lb | 221 lb | 233 lb |
| 6'7" | 208 lb | 225 lb | 237 lb |

For Women

| | | | |
| --- | --- | --- | --- |
| Height | Small | Medium | Large |
| 4'10" | 125 lb | 136 lb | 147 lb |
| 4'11" | 128 lb | 139 lb | 150 lb |
| 5'0" | 131 lb | 142 lb | 153 lb |
| 5'1" | 134 lb | 145 lb | 157 lb |
| 5'2" | 137 lb | 148 lb | 161 lb |
| 5'3" | 140 lb | 151 lb | 165 lb |
| 5'4" | 143 lb | 154 lb | 169 lb |
| 5'5" | 146 lb | 157 lb | 173 lb |
| 5'6" | 149 lb | 160 lb | 177 lb |
| 5'7" | 152 lb | 163 lb | 180 lb |
| 5'8" | 155 lb | 166 lb | 183 lb |
| 5'9" | 158 lb | 169 lb | 186 lb |
| 5'10" | 161 lb | 172 lb | 189 lb |

---

Use this online calculator to determine your frame size.
Q: What is the advantage of having a Shouldice repair done at Stony Brook Medicine?
A: Our hernia specialists at Stony Brook have extraordinary experience in performing the Shouldice repair. When it comes to fixing hernias, experience makes a big difference, as demonstrated in the medical literature.
The Shouldice repair is a relatively difficult reconstruction. But it has relatively low reported recurrence rates in the hands of surgeons experienced with this particular method.
At Stony Brook, we also have a multidisciplinary team that includes weight loss specialists who provide a range of proven treatments, both non-surgical and surgical. This is important for hernia patients because having a reasonable weight contributes to the success of the hernia repair.
---
To learn more about Shouldice Hernia Repair visit our website, or call (631)638-7920