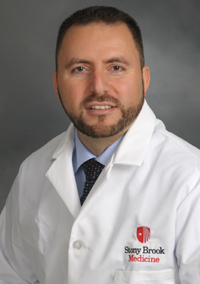 Our hernia program offering the Shouldice repair, directed by Samer Sbayi, MD, is unique in the United States. Patients from all over the country (not only Long Island) are traveling to Stony Brook to have the procedure done.
Dr. Sbayi is an experienced hernia specialist trained at the Shouldice Hospital in Canada, and has performed the Shouldice procedure for over 700 patients (as of 2018).
A member of the team at the Stony Brook Comprehensive Hernia Center, Dr. Sbayi is available to have a phone interview with persons considering having the Shouldice repair; please call his office at 631-638-7920 to set one up.
Here, we share some of the many testimonials from our patients who have come to Stony Brook — from far and near — to solve their hernia problem:
---
Michael Z., of Lake Junaluska, NC, says:
"I am a fit, 155-pound, 69-year-old man who continues to participate in regular aerobic exercise and strength training. Last year, while lifting about 250 pounds on a seated leg press machine, my inguinal hernias enlarged in my lower abdomen on both sides.
"I was in no pain, but my wife (a Harvard-trained physician) and I decided that the best course of action was to avoid emergency surgery and to seek the appropriate surgical repairs on an elective basis.
"The diagnosis of bilateral inguinal hernias was confirmed by my primary care physician, who wrote a surgical referral for me.
"My wife and I then researched my options for surgical repair.
I should avoid methods that used mesh because of potential pain, discomfort, and complications after surgery.
"After determining that I should avoid methods that used mesh because of potential pain, discomfort, and complications after surgery and that I should avoid laparoscopic (minimally invasive) techniques because of the frequency of recurrence (failures), we decided to seek a surgeon who was highly skilled in the Shouldice method because of this method's high level of success and the ability to undergo the surgery WITHOUT general anesthesia.
"After searching for surgeons nationwide who had expertise in the Shouldice method (we really could not find any, other than Dr. Sbayi), we contacted Stony Brook to set up an exam and surgical appointment, as well as to send my medical records and referral to Dr. Sbayi for pre-surgical evaluation.
"We travelled to Stony Brook from western North Carolina on a Wednesday and checked into the Hilton Garden Inn very near the Stony Brook medical center.
"We saw Dr. Sbayi in his office for the exam on Thursday and also saw the head of anesthesiology on that same day. On Friday, we checked into the Ambulatory Surgical Center at 6 am.
"The attending anesthesiologist, nursing staff, and aides showed great care and consideration for me throughout the pre-op, surgical, and post-op periods.
"The surgery took about one and one-half hours. I was out of the Ambulatory Surgical Center before noon and my wife and I took a cab for the short ride back to our hotel. We stayed during the weekend at our hotel and flew back to western North Carolina that following Monday.
I am ecstatic about the success of my hernia repairs and my experience with Dr. Sbayi and Stony Brook!
"I was prepared by Dr. Sbayi for some pain immediately following the surgery. That was the case for the first couple days in our hotel room at Stony Brook. Using my abdominal muscles to get in and out of bed was significantly painful, but I did not use the prescription pain killers prescribed to me, only Tylenol.
"By Monday I was able to fly home without much problem and received a follow-up phone call from Dr. Sbayi while we were changing airplanes at Philadelphia International Airport.
A week post-op, I was able to move very well, although I was still somewhat sore. Of course, as instructed by Dr. Sbayi, I rested and did not exercise for a full six weeks after my bilateral inguinal hernia repairs.
"After the six-week recovery period, I returned fully to my aerobic activities, as well as my strength training, although at reduce weight levels. About four months post-op, I returned to the weight levels previously attained prior to the exacerbation of my hernias that led me to Dr. Sbayi.
"As of now, I am almost 10 months post-op with no signs of hernia recurrence, and I am fully active. The two, very linear and neat scars (one on each side) on my lower abdomen have fully healed and are only noticeable if you are looking for them.
"I am ecstatic about the success of my hernia repairs and my experience with Dr. Sbayi and Stony Brook!"
---
Steve R., of Delray Beach, FL, says:
"After a thorough search, I chose Dr. Samer Sbayi to perform my inguinal hernia repair with the Shouldice procedure. His qualifications include training at Shouldice Hospital and several years of experience with advanced gastrointestinal surgery.
"Dr. Sbayi was available to support me before, during and after surgery. The surgery was expertly performed, and Dr. Sbayi assembled an excellent team to assist with the procedure.
"There were no complications, surgical site infections, post-operative urinary retention or catheterization required. I am enjoying a rapid recovery with little to no pain.
It was worth the extra effort required to fly in from out of town in order to have the benefit of Dr. Sbayi's professional help.
"Dr. Sbayi remains available to his patients after the surgeries that he performs to answer any questions about their surgery or recovery.
"The anesthesia was professionally handled by Dr. Deborah Richman's department. This was important to me, since I tend to be anxious before medical procedures. I was fortunate to be assigned Johanna as my anesthesia nurse.
"Johanna skillfully handled all my questions and concerns and administered the anesthesia so expertly, that the next thing I knew, the operation was over.
"It was worth the extra effort required to fly in from out of town in order to have the benefit of Dr. Sbayi's professional help.
"I recommend him without reservation to anyone who is considering having their hernia repaired, or for any related surgical procedure."
---
Shawn H., of Rockaway Beach, NY, says:
"I found Dr. Sbayi while researching experienced Shouldice hernia repair surgeons in the New York area.
"After a previous laparoscopic mesh repair, I developed severe chronic groin pain. As a result, I underwent a triple neurectomy, and mesh and tack removal surgeries with Dr. David Chen (who lectures worldwide on this condition) at UCLA Medical Center.
"The surgeries were a success, but I wanted a non-mesh repair to replace the mesh and tacks that Dr. Chen removed.
Dr. Sbayi's experience proved vital.... I highly recommend him.
"Seeing that Dr. Sbayi had trained at the Shouldice clinic and performed hundreds of procedures was very important. The Shouldice repair is technically challenging, so training and experience are crucial.
"Dr. Sbayi's experience proved vital, as there was a large amount of scar tissue from my prior surgeries. He carefully navigated the scar tissue to ensure clean planes for a durable repair, taking several hours to complete the surgery.
"A less experienced surgeon may not have had as successful an outcome. I am extremely pleased with the results, and have returned to surfing, swimming, and boot camp workouts without issues.
"In addition to his surgical skills, Dr. Sbayi has a fantastic bedside manner. He is patient, truly listens, and carefully explains what to expect during and after surgery. I highly recommend him."
---
Sixty-year-old man says:
"In 2012, I developed a right inguinal hernia. I researched mesh and no-mesh repair options. A mesh repair doctor told me that the vessels to the testicles run along the abdominal wall and through the inguinal canal. During repair, mesh is laid over these vessels against the abdominal wall, where it is held in place by pressure from the internal organs. Over time, the vessels can become enmeshed in the mesh. If the mesh needs to be removed, the vessels can be destroyed, necessitating removal of a testicle. When I learned this and heard frequent complaints of chronic pain resulting from foreign material in the body, I decided to get no-mesh hernia repair.
"I spoke with Dr. Josef Fischer, a leading Harvard surgeon and advocate of no-mesh repair. He recommended going to the Shouldice clinic in Toronto and getting the Shouldice repair. My insurance didn't cover it and the hernia rarely bothered me. So I decided to wait. I used a hernia brace for weight lifting and other strenuous activities.
"I researched no-mesh hernia repair in the US. There were only a few options. Nearly everyone does mesh repair. Some places offered the Shouldice repair. But I heard that the Shouldice technique is complicated and best done by surgeons who learned it at the Shouldice clinic and had lots of experience doing it.
"I watched several surgery videos online. A surgery center in England offered the Shouldice repair. Their video said they visited the Shouldice clinic and observed the surgery. As they performed the surgery, they mentioned that Shouldice uses four layers of stitching with stainless steel thread. They said they didn't think four layers were necessary. As a result, they only used two layers of non-metal thread.
I'm happy that I found Dr. Sbayi and got the Shouldice repair. I wouldn't hesitate to recommend him.
"Shouldice has done hundreds of thousands of hernia repairs over the past 75 years. I didn't trust the doctors who had no Shouldice training and said two layers of stitching were OK. Shouldice is the gold standard of no-mesh hernia repair. I decided to wait and get the surgery at the Shouldice clinic, done by an experienced Shouldice-trained surgeon.
"In 2018, I found Dr. Samer Sbayi online. He worked at Shouldice for about a year and did several hundred Shouldice repairs. He is based in New York and covered by my insurance. After about six years of living with the hernia, I decided to get the surgery done by Dr. Sbayi.
"Dr. Sbayi, his staff, the people at the pre-surgery center, and the surgery center nurses and doctors were friendly and competent. The surgery overall was successful, as explained below. I only had one problem with the outpatient surgery center.
"Dr. Sbayi suggested general anesthesia so that I wouldn't move during the surgery. This increases the chance of success. They normally give Versed to relax people, and then give Propofol and I think a paralytic, Fentanyl and an antibiotic. I read how Versed sometimes causes memory loss and other cognitive problems. I declined to take it. They said I didn't need to because the other drugs would put me to sleep. Versed apparently is only used for the first few minutes when the patient is moved from the waiting room to the surgery suite. I walked in conscious, and then they gave me the Propofol and other drugs.
"The surgery room nurse was very nice. But I think she was farsighted (not able to see things up close) and/or not used to dealing with conscious patients. She placed an oxygen mask on my face so that it was resting on my lower eyelids and possibly my eyes. Fortunately I was conscious and able to ask her to move the mask off my eyes. She apologized and did. I smelled a strong chemical smell from the new plastic of the mask.
"When I woke from the surgery, I had eye pain, which became more severe as the day progressed. I worried that I had permanently harmed my eyesight for an elective surgery. An eye surgeon explained that I had corneal damage in both eyes, which sometimes happens with general anesthesia. He said the corneas usually repair themselves in 7-10 days. Fortunately, they did. Corneal damage can be caused if the eyes are not kept lubricated during surgery. Patients can't blink and wet their eyes during general anesthesia. Without adequate lubrication, the eyes can dry out and get suck to the eyelid. Then when the patient opens their eyes after surgery, the eyelid is torn off the cornea, which can cause corneal damage.
I'm able to deadlift 405 pounds without pain, as I did before the surgery.
"The nurse possibly did not lubricate my eyes adequately during surgery. Or perhaps the oxygen mask or chemicals in it irritated my eyes when it was misplaced on them.
"Other than this, everything went well. My recovery has progressed as Dr. Sbayi said it would. I didn't want to take narcotic painkillers. As the doctor said, alternating Tylenol and Advil worked fine. I had a prescription for Oxycodone, but didn't take the pills. For a few days, I couldn't sit up using stomach muscles. Doing so was painful at the surgery site. I had to turn sideways and push myself up. Three days after the surgery, I sneezed and felt a lot of pain.
"But the healing progressed well. Dr. Sbayi said professional hockey players get the surgery and are back to full contact in six weeks. I've been lifting weights for many years. I resumed light weight lifting after about six weeks, and progressed back to heavy weights. I'm able to deadlift 405 pounds without pain, as I did before the surgery. I'm also able to run and do other physical activity without pain.
"People must weigh below a certain amount to get the Shouldice repair. I was below the limit when I got the surgery, but gained about 15 pounds since then. Everything seems to be OK and I feel no pain. But there sometimes is a dull sensation at the surgery site. I'm getting my weight back under the limit to facilitate optimal healing.
"The Shouldice repair involves cutting one of three nerves in the area. Shouldice has a lot of experience with this. So I trusted them. I felt no loss of skin or sex sensation. The surgery site seemed a little numb to the touch. But if that's what was needed to prevent short and long-term pain, the nerve cutting seems like the right action.
"Dr. Sbayi said it could take up to a year for the surgery site to fully heal. There were ridges under the skin from the stitching. He said they go away after a few months. Four months post surgery, they're more than halfway gone. The scar also is healing well. The surgery had no effect on sex or going to the bathroom.
"Overall, I'm happy that I found Dr. Sbayi and got the Shouldice repair. I wouldn't hesitate to recommend him. As far as I know, he is the only Shouldice-trained surgeon operating in the US.
"To those getting the surgery, my advice is to consider not taking Versed and get a guarantee that the eyes will be kept well lubricated during general anesthesia."
Vee Cord, of New York, NY, says:
"After some three (3) years of 'it' literally not hanging so well :) I am forced to take this 'step' and undergo inguinal hernia repair surgery...Interestingly enough in July 2018 I was scheduled for hernia repair surgery at a big NYC hospital to be told two (2) days before the surgery date by billing personnel that my limited insurance didn't cover this surgery! Unbelievable but true … to later discover undergoing 'that' type of hernia repair at that hospital or any other hospital for that matter, would have been a huge mistake, for the simple reason, they use 'MESH' and 'staples' in their repair process.
"But one just has to go online to discover the class action lawsuits against 'those' participants, manufacturers included, using 'MESH' in particular and 'staples' in general, making for potential catastrophic consequences.____ I now thank my lucky stars and happy beyond belief that my said 'MESH' inguinal hernia repair surgery under 'GENERAL' anesthesia, no less, was canceled!!
I was fortunate to find a surgeon, a Canadian native, by the way, who just happened to train at Shouldice Hernia Hospital, right in my own backyard, practicing at one of the finest university hospitals in the New York area.
"There are no accidents, my friends. For some reason, I didn't do my homework then, as I usually do, regarding the other methods of hernia repair out there._______ In my present situation, I have opted for the Shouldice Method, i.e., NO MESH and NO 'staples' used under 'LOCAL' anesthesia, free of those huge complications causing much pain and suffering as referenced above.
"The Shouldice Method is performed at the Shouldice Hernia Hospital based in Ontario, Canada. One only has to search Shouldice results to discover their recurrence rate of inguinal hernia repair surgery is less than 1% with over 380,000 procedures performed to date. Not bad eh…!
"And with further research, I was fortunate to find a surgeon [Dr. Samer Sbayi], a Canadian native, by the way, who just happened to train at Shouldice Hernia Hospital, right in my own backyard, practicing at one of the finest university hospitals in the New York area [Stony Brook] … imagine that! One of the few surgeons in the United States, if not the only one, who performs a true four (4) layer Shouldice hernia repair … so do your homework and ask questions."
---
MORE TO COME
---
Did you have a positive experience with your Shouldice repair done at Stony Brook Medicine? If yes, we would like to add your review to our testimonials page here. Please just send Dr. Sbayi a letter describing your experience, along with the signed consent form (download) which allows us just to publish your review, plus your name (first name and initial of last). No other medical information or personal information will be published. Your review will help others with hernias to understand their options for a good repair. Mail to: Dr. Samer Sbayi, Surgery Department HSC T-19, Stony Brook Medicine, Stony Brook, NY 11794-8191. Thank you!