What is Shouldice Hernia Repair?
The Shouldice Hernia Repair, known as a natural tissue repair involves repair of your muscles using permanent sutures, no mesh, patch or screen is needed.  The procedure is performed using intravenous sedation instead of gas anesthesia, a local anesthetic is injected into the skin to numb the surgical site, lasting for a few hours post-op.  
The surgery takes about 45 minutes to perform and pain is often manageable with over the counter Tylenol and ibuprofen.  Most patients are discharged the same day of their surgery, avoiding a hospital stay.  Patients are often able to return to work in less than a weeks time or set up for lite duty for a short period of time depending on scope of work. Self pay options are available. 
Our goal is to make your visit and recovery a positive seamless experience. As a patient, you can be sure that Dr. Samer Sbayi and the Stony Brook staff will give you the best care through the use of state of the art medical and surgical equipment and the latest innovations in surgery
Want to learn more information about Shouldice Hernia Repair?
---
Self Pay Packages
We are now offering self pay packages for Shouldice Hernia Repair.  Procedures are performed at our ambulatory location, for accessibility and patient convenience.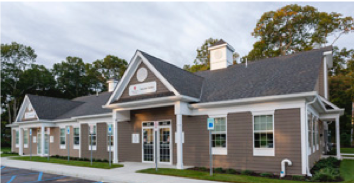 All self pay packages include:
Coordination of all your pre-surgical needs and evaluation
Accommodations
Scheduled surgery date
detailed discharge information.  
For more information about Self Pay Packages contact our Surgical Coordinator | Phone: (631) 638-7920. 
Time Line of Care
Step 1- Evaluation
You'll first need a physical exam, and full medical history.  You may receive recommendations on losing weight, and your surgery will then be scheduled.
Step 2- Pre-Op
Once all required documents are submitted and in order, you will have a phone consultation with our Anesthesiologists and receive all details regarding your surgery 1-2 days prior to your scheduled procedure.  
Step 3- Surgery
On the Day of your surgery, you will arrive 2 hours before your scheduled surgery time.  The Surgical and Anesthesia team will answer any questions or address any concerns that you may have prior to the start of your procedure. 
Step 4- Recovery
Post-op you will spend about 2 hours in recovery.  Most Hernia surgeries are ambulatory and majority of patients are able to go home the same day. Upon being discharged, you will receive post-op instructions for care and guidelines for pain management and approved activity levels.  
---
Airports and Accomodations
Nearby Airports
John F Kennedy International Airport- Queens NY
Long Island MacArthur Airport- Ronkonkoma, NY
Accommodations
1 Circle Rd. Stony Brook, NY 11790 | Phone: 631-941-2980