By Andrew M. Brown, MD, and Aurora D. Pryor, MD, of the Stony Brook Bariatric and Metabolic Weight Loss Center
The Centers for Disease Control and Prevention just issued a new report detailing the rates of obesity in the United States. What the CDC study found was that, as of 2018, the prevalence of obesity in adults was 42.4% (see report).
This is a sharp increase from 1999 when the obesity rate was 30.5%. Severe obesity also increased from 4.7% to 9.2%.
So, now, more than 4 in 10 American adults are obese, with nearly 1 in 10 being severely obese, according to the CDC.
Additionally, among adults, rates of obesity and severe obesity were highest in the African American population. That said, it's clear there is considerable obesity among whites in our local community.
Obesity is defined by body mass index (BMI) which is calculated as weight in kilograms divided by height in meters squared. Obesity is a BMI greater than 30, and severe obesity is a BMI greater than 40. Click here to use our online BMI calculator.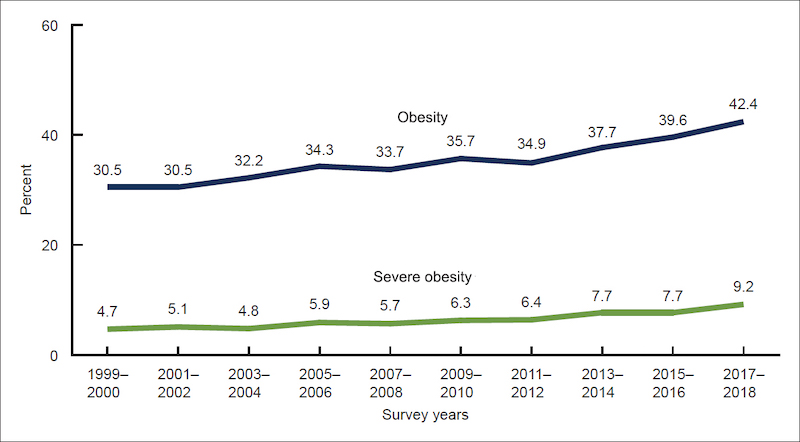 Why does obesity matter?
Obesity is associated with cardiovascular disease, diabetes, sleep apnea, and premature death, as well as a variety of other medical problems. Addressing obesity early can minimize the impact of, and in some cases reverse, the diseases and disorders associated with obesity.
 
How can we combat the steadily increasing rates of obesity?
Here at Stony Brook Medicine, we meet these problems head-on at our Bariatric and Metabolic Weight Loss Center. This comprehensive center includes all of the experts needed to address every individual's specific issues, and help them achieve a healthier mind and body.
Our fully staffed team includes bariatric surgeons, endocrinologists, dietitians, psychologists, nurse practitioners, and physician assistants who are trained specifically to combat obesity and metabolic syndrome.
Our message to members of our community who have a weight problem is this: We are happy to see you in consultation at any one of our offices — Centereach, Commack, Patchogue, and Smithtown — and begin the care process immediately.
Our goal is to best match each patient's goals and objectives with the services of our multidisciplinary center in order to achieve the best outcome.
Our services include bariatric surgery, medical weight-loss options, dietary counseling, and psychological counseling, and they are tailored specifically to the individual patient.
For consultations/appointments with our bariatric specialists, please call 631-444-BARI (2274).