First on Long Island to Offer Dialysis Patients EndoAVF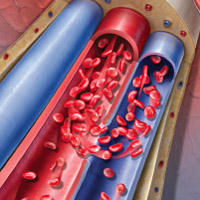 There are more than 440,000 Americans with end-stage renal disease (ESRD), the final stage of kidney failure. When a patient has ESRD, their kidneys are no longer able to keep up with the body's need to remove excess waste and water.
In fact, once kidney function goes below 10-15% of normal, hemodialysis — the process of removing fluid and toxins from the blood via an artificial kidney machine — is necessary for survival.
Linking to the bloodstream is crucial in administering dialysis treatment to these patients.
For over 50 years a surgically created artery-vein fistula (AVF) — a connection between an artery and a vein — has been the standard of care to achieve vascular access for dialysis patients.
Until now.
The FDA in August 2018 approved a less invasive alternative to the traditional surgery: endovascular artery-vein fistula (endoAVF), also called percutaneous (through/under the skin) fistula.
---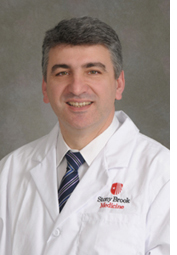 We are leading the way in patient care with leading-edge technology and our advanced endovascular skills.
The Stony Brook Vascular Center is the first on Long Island to offer dialysis patients endoAVF.
Apostolos K. Tassiopoulos, MD, professor of surgery and chief of vascular and endovascular surgery, and director of the Stony Brook Vascular Center, says:
"EndoAVF is a minimally invasive alternative to the traditional surgically created AVF which requires detailed planning to determine if a specific patient is an appropriate candidate.
"Therefore, it is particularly important to have not only a group of surgeons with expertise in hemodialysis access and advanced catheter and wire skills, but also skilled vascular lab technologists and nurses focusing on patient education to help maximize procedural success.
"Only a small number of institutions including our own currently have this type of advanced diagnostic and interventional expertise, together with the specialized training component required to perform endoAVF.
"Stony Brook University Hospital is among the first vascular centers in the nation, and the first on Long Island, to offer this innovative technology to benefit our patients."
In a traditional AVF procedure, the fistula is created by making a surgical incision, usually in an arm, repositioning a superficial vein from adjacent tissues, and then sewing together the vein onto a nearby artery, thus creating a high blood flow shunt.
An endovascular AV fistula is instead created using minimally invasive catheters that utilize electro-magnetic waves to create the channel between the vein and artery. This approach leaves minimal scarring from the fistula creation procedure.
EndoAVP benefits are quicker recovery time, plus less infection risk, pain, scarring, and arm disfigurement.
"In one preliminary study, the usability (maturation) of the percutaneously placed AVF was 95-96%, while for a surgically created AVF, usability was just 75% or less," says Dr. Tassiopoulos.
"If a patient has the relevant anatomy, then there is definitely what's considered an early advantage. The procedure takes no more than an hour and a half, the maturation process takes five to six weeks, and the maturation rate is about 95%."
In addition to Dr. Tassiopolos, our vascular specialists providing endoAVF are Mohsen Bannazadeh, MD, and Angela A. Kokkosis, MD.
---
About the Procedure
The endoAVF procedure requires only two small micro-punctures in the arm. Two thin, flexible magnetic catheters (tubes) are inserted into an artery and vein under x-ray guidance.
The artery and vein access location may include the upper arm (brachial artery/vein) or the forearm above the wrist (ulnar vein or radial vein).
Once the desired site is reached (usually between two vessels within close proximity to each other), a small burst of electro-magnetic energy — heat— between the two catheters is used to create the fistula.
The catheters are then removed.
The AVF can be used for hemodialysis after a healing time of around six weeks with the endoAVF procedure. Recovery time can be significantly shorter than with open surgery, as there is less trauma to the area.
Once the fistula is healed and mature, high blood flow allows blood to be withdrawn, cleaned through the dialysis machine, and returned to the body.
People living with ESRD are an underserved patient population with very limited treatment options available to them. With endoAVF the Stony Brook Vascular Center is leading the way in patient care with leading-edge technology together with advanced vascular skills.
Learn more about our vascular care team and their services. For consultations/appointments with our vascular specialists, please call 631-638-1670.