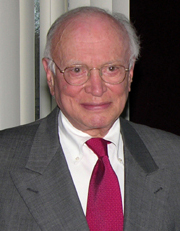 Harry S. Soroff, MD, founding chairman of the Stony Brook University Department of Surgery, died on Wednesday, August 22, 2012, following complications of heart surgery in New York City. He was 86 years old. Dr. Soroff's career at Stony Brook spanned 32 years. He served as chairman of surgery from 1974 to 1989.
Dr. Soroff assembled the original faculty and defined the leadership role and dynamic character of the department (see, for instance, papers of Clarence Dennis, MD). During the 1980s, he led the department's transformation from a group of "generalists" into groups with more specialized skills both in the clinical areas and in research.
Dr. Soroff established the Stony Brook University Burn Center and also the Living Skin Bank in the mid-1980s, and during this period he forged the Burn Center's partnership with Suffolk County's volunteer firefighters that led to the establishment of the Suffolk County Volunteer Firefighters Burn Center Fund, which continues to provide special support to the Burn Center.
Born in Sydney, Nova Scotia, Canada, on February 2, 1926, Dr. Soroff was the son of a family that had fled Russia and that ultimately settled in the United States.
He grew up in Philadelphia, and received his MD from Temple University there in 1948. He completed his residency training in general surgery at the Western Reserve University Hospital of Cleveland, and completed his fellowship training in cardiothoracic surgery at Mount Auburn Hospital in Cambridge, MA. He was a research fellow in surgery at Harvard Medical School in the late 1950s, then joined the surgical faculty at Tufts University.
Dr. Soroff assembled the original faculty and defined the leadership role and dynamic character
of our Department of Surgery during the early years of the Stony Brook School of Medicine.
Dr. Soroff was chief of the Tufts University Surgical Service at the Boston City Hospital. In addition to his teaching responsibilities, he served as director of surgical research and co-director of one of the first clinical research centers established and funded by the National Institutes of Health at Tufts University.
During the Korean War, Dr. Soroff served for three years in the U.S. Army where he was the chief of metabolic research of the Army Institute of Surgical Research in San Antonio, TX. He pioneered the development of the understanding of the nutritional requirements of burned patients, and demonstrated that their recovery could be significantly improved by the use of appropriate fluid and dietary supplements.
During the Six Day War in 1967 and the Yom Kippur War in 1973 in Israel, Soroff volunteered with the Israeli army's mobile medical units, furthering his subspecialty in burns.
In addition to the surgical experience that he gained in the treatment of many patients with various forms of cardiac and pulmonary disorders, Dr. Soroff was chief of the thoracic laboratory of Dwight Harken, MD, a leader in the field of cardiac surgery at the Peter Bent Brigham Hospital of Harvard Medical School. He developed a close association with Clifford Birtwell, an engineer, who proposed the concept of counterpulsation as a method of assisting the failing heart.
In 1986, Dr. Soroff was instrumental in introducing an improved external counterpulsation system to the United States which he brought from China that was based on the system developed by him and his colleagues at Tufts University. He organized a clinical study at Stony Brook that evaluated the current model of external counterpulsation in the treatment of patients with severe angina (read about Stony Brook's current program in enhanced external counterpulsation).
Among Dr. Soroff's other inventions of which he was especially proud is his steel band for improved sternal closure called Sterna-band, used in cardiothoracic surgery procedures to provide not only effective fixation, but a reduction in both postoperative pain and postoperative hospital stay.
A longtime member of the surgery department staff recalls Dr. Soroff telling him that, when he was 12 years old, he told his mother he was going to be a surgeon when he grew up, and that she replied, "Harry, when grass grows on my hand, you will be a surgeon." This staff member met his mother when she was in her nineties — her name was Fanya (from Russia) — and she confirmed that she did indeed tell him that.
"Dr. Soroff was motivated by such challenges," he adds. "His career as a surgeon and, in particular, his establishment of the Department of Surgery at Stony Brook are a testament to that dauntless, creative, visionary spirit of his."
"He has affected more peoples' lives than is even known," says Steven Sandoval, MD, medical director of the Burn Center. "While on his deathbed, he was still working on research."
Plans are underway to honor Dr. Soroff through the establishment of the Harry S. Soroff, MD, Memorial Lectureship in Burn Care and Research, to be part of our visiting professor program.
Click here to learn more about Dr. Soroff and the early history of our Department of Surgery.