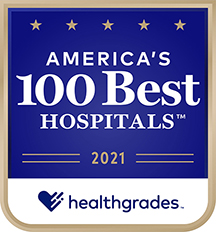 Stony Brook University Hospital has been named one of America's 100 Best Hospitals for 2021 by Healthgrades – the only hospital on Long Island to receive this distinction for the past three consecutive years.
This is the equivalent of receiving another A+ on our annual report card for quality care. It places us among the top 2 percent of hospitals nationwide. More importantly, it measures results that make a significant difference in the lives of our patients every day.
Healthgrades was the first organization in the country to rate hospitals based on actual patient outcomes using publicly available data from Medicare. The organization analyzes more than 4,500 hospitals nationwide to examine in-hospital complication rates and mortality rates. This year's ratings are based on a review of Medicare inpatient data from fiscal years 2017, 2018 and 2019.
Receiving this award is unusual for academic medical centers, which treat very complex patients, often with greater severity of illness, which can adversely impact hospital readmission and mortality rates.
For our patients, this means a fundamental difference in outcomes. If all hospitals nationwide performed similarly to America's 100 Best Hospitals, an estimated 170,783 lives would be saved nationwide each year.
Only five hospitals in New York State were named among America's 100 Best Hospitals this year. Stony Brook however, is the only hospital in the northeast region of the U.S., and one of only five hospitals in the nation, to achieve America's 100 Best ratings in all four of these categories for 2021:
America's 100 Best Hospitals overall
America's 100 Best Hospitals for Cardiac Care
America's 100 Best Hospitals for Coronary Intervention
America's 100 Best Hospitals for Stroke Care
Additional noteworthy accolades 
Cardiac Surgery Excellence Award™ (2021)
Cranial Neurosurgery Excellence Award™ (2021, 2020)
Critical Care Excellence Award™ (2021, 2020, 2019)
Neurosciences Excellence Award™ (2021, 2020, 2019)