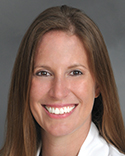 Stefanie Cardamone, MD, FACOG
Clinical Assistant Professor of Obstetrics & Gynecology and Pediatrics
Pronouns: she, her, hers
Dr. Stefanie Cardamone completed her training in Obstetrics and Gynecology before taking specialty training in
Pediatric and Adolescent Gynecology. She talks about how this relatively new discipline helps teenage girls navigate gynecologic concerns.
Why do we need Pediatric and Adolescent Gynecologists (GYNs)?
Children and adolescents have different issues than adults, and very different ways of communicating their symptoms
and concerns.
Many common complaints in adult women mean something different in teens. Heavy or irregular bleeding might indicate endometrial polyps or fibroids in adults but are much more likely to indicate polycystic ovary syndrome (PCOS), or a bleeding or coagulation disorder in teens. Vaginal itching or discharge might indicate a yeast infection in an adult woman, but in young children be more likely caused by hygiene, a reaction to irritants like bubble baths, or perhaps infection with respiratory bacteria like Strep.
What should we expect at the first appointment?
For most teenagers there is no need for an invasive pelvic exam during a routine visit, unless they have a specific issue to address. Sometimes an external exam is called for, but most of the visit will be spent talking, making sure that the patient feels comfortable, and establishing trust.
At Stony Brook, first appointments are scheduled to be longer than a regular adult visit in order to give the teenager enough time to feel at ease and make sure all concerns are addressed. A routine preventive visit will cover a wide range of topics. We talk about periods; what is normal and what could be a cause for worry. We talk about preventive care, such as HPV vaccination. We talk about sexuality and gender identity, how to keep safe during sex, and contraception if needed.
How do you manage patient confidentiality?
It is our practice to have part of the visit be confidential time between an adolescent patient and their provider.
We do send out a note to parents before the appointment so that they know to expect that a portion of the session will be between the teen and the doctor only. Adolescents often have questions or concerns that they may feel embarrassed to talk about in front of their parents or guardians. Conversation time alone provides a safe space to ask these questions – body image concerns, changes in vaginal discharge or odor – that are often easier to discuss privately. By providing one-on-one time with the provider, we encourage teens to discuss their own interests and concerns, and gain more ownership over their health.
The confidential part of the appointment is just that. It is normal for adolescents to experiment with a range of behaviors and keeping these discussions private builds trust between a teen and their provider. These discussions are private, but not secret and we encourage teens to discuss issues with their parents or guardians. However, in uncommon situations, we may have to disclose private information to protect a patient's safety.
Who should have an Adolescent GYN visit?
The American College of Obstetricians and Gynecologists recommends that an adolescent's first gynecology visit take place between the ages of 13 and 15 years, in order to provide preventive healthcare services, education and guidance, as well as any problem-focused care.
Coming of age raises a lot of questions and that's why Women's Health Services at Stony Brook Medicine has physicians dedicated to pediatric and adolescent gynecological health.
We see patients in East Setauket and Bohemia. To make an appointment, call (631) 444-4686.