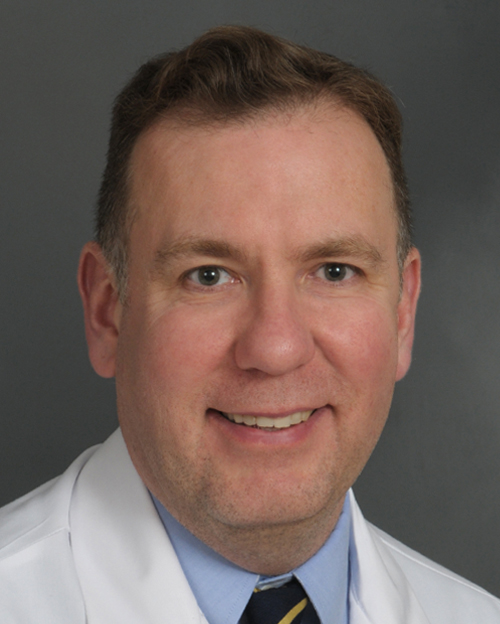 John Fitzgerald, MD
Urologic Oncologist
Stony Brook University Cancer Center
John Fitzgerald, MD, Urologic Oncologist, shares important information about prostate cancer.
What is prostate cancer and what are the symptoms?
The prostate is a walnut-sized gland in men. It is located below the bladder and in front of the rectum. Nearly all forms of prostate cancer start with small changes in the size and shape of prostate gland cells, which can then grow uncontrollably, creating tumors. Most often, these tumors grow slowly, but in a small percentage of cases, they can be more aggressive. Unfortunately, in both the early, slow-growing stages and in advanced stages, many men with prostate cancer are symptom free, although bone pain or blood in the urine may indicate an advanced stage. That's why it is important to establish a baseline and get annual screenings. The American Urological Association has changed its guidelines, recommending that all men age 40 and over get annual screenings, including a test to measure levels of prostate-specific antigens (PSA) in the blood and a digital rectal examination by a urologist. According to the American Cancer Society, one in six men develop prostate cancer in his lifetime. The good news is that the survival rate is high—upwards of 85 to 90 percent, thanks to the many treatment options available.
What are the available treatment options?
Stony Brook offers a full range of treatment options that include surgical removal of the prostate (prostatectomy) by traditional, laparoscopic, and robot-assisted procedures; radiation, including external beam and seed implant; hormonal therapies and medication; and cryosurgery, which involves freezing of the prostate. Stony Brook also participates in ongoing clinical trials. Stony Brook University Medical Center is the most experienced in Suffolk County in performing robot-assisted prostatectomies, having completed more than 450 since 2007. We were the first on Long Island to acquire the da Vinci® S HD™ Surgical System, even before hospitals in New York City.
What is robotic-assisted surgery?
An alternative to traditional open surgery and conventional laparoscopy, robot-assisted surgery uses a system that virtually extends the surgeon's eyes and hands into the surgical field. Three-dimensional, high-definition technology allows surgeons to see vital anatomical structures more clearly. Robotic "arms," with increased flexibility and stability, allow surgeons to perform a more precise surgery than with traditional methods. Robot-assisted surgery is also used for cardiac, general, and gynecologic surgeries, and is increasingly used for reconstructive urologic procedures as well as radical prostatectomy suitable candidates.
What are the benefits of robot-assisted prostate surgery?
Robot-assisted surgery is less invasive than traditional minimally invasive surgery, occurring through five to six very small incisions (5-8 mm) in the abdomen, which helps reduce scarring and blood loss. Because the system is more precise, patients typically have less pain, quicker recovery, and better overall outcomes. Many men who have had the procedure report a lower incidence of incontinence and impotence.
What else distinguishes Stony Brook's approach?
Our Department of Urology has been ranked by U.S. News & World Report as among the top 50 best practices in the country. A multidisciplinary team discusses newly diagnosed cases at twice monthly tumor board meetings. The prostate care team has specialty training, and members have worked together as a team for many years. They are also connected with other resources at the Medical Center to ensure that patients receive the most comprehensive care possible.
Prostate Screenings and Appointments
If you are a man age 40 or over, be proactive about your health. For information about screening for prostate cancer or to make an appointment with a Stony Brook urologist, call (631) 444-4000.