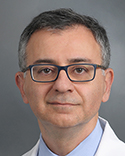 Mohsen Davoudi, MD
Interventional Pulmonologist
Lung Cancer and Chest Disease Program
Stony Brook Cancer Center
Advanced diagnostic and therapeutic procedures are performed by interventional pulmonologists. Interventional pulmonologist Mohsen Davoudi, MD, in the Lung Cancer and Chest Disease Program at Stony Brook Cancer Center, explains how cutting-edge advances in interventional pulmonology are taking lung and airway cancer diagnosis and treatment to the next level.
What is the role of an interventional pulmonologist?
Interventional pulmonology is a relatively new aspect of pulmonary medicine. As an interventional pulmonologist, I diagnose, stage and treat conditions and cancer of the lungs. Staging is an important part of cancer diagnosis, as it is a common language used amongst care providers to assess the extent of the disease. My colleagues and I meet once a week to discuss the best approach to your care. This group includes surgeons, medical oncologists, radiation oncologists, radiologists and nurses.
What does "interventional" mean?
Interventional refers to minimally invasive procedures that I can use to view your lungs. I insert an endoscope, which is a device that consists of a small tube and an optical system, through the mouth, into the airway and lungs. Various types of tools can be inserted through the endoscope for different procedures.
What diagnostic procedures do interventional pulmonologists perform?
Some of the advanced diagnostic techniques we use for cancer include:
Bronchoscopy - I thread an endoscope into the major air passages of the lungs to obtain tissue samples for a biopsy of a tumor or a lymph node. This can also help with staging.
Electromagnetic navigation bronchoscopy (ENB) - I use this minimally invasive procedure for getting biopsy samples from hard to reach lung cancer lesions that helps doctors diagnose and plan treatments. ENB combines GPS-like technology with a catheter-based system to access lesions deep in the lung. Without ENB, patients often had to have major surgery to reach a suspicious spot on the lung. The less-invasive ENB option means fewer complications, a quicker recovery, better-quality tissue samples for more accurate diagnosis and more highly targeted treatment.
Endobronchial ultrasound-guided transbronchial needle aspiration (EBUS-TBNA) - This is another sophisticated technique I use to diagnose and stage lung cancer, taking a biopsy from the walls of air spaces in the lungs. It's guided by ultrasound for accuracy and safety.
What treatment procedures do interventional pulmonologists perform?
Treatment procedures for lung and other types of airway cancers that we perform using an endoscope or bronchoscope include:
Laser therapy - Administered by threading an endoscope into the affected area and using laser energy to shrink or destroy a tumor
Argon plasma coagulation - A noninvasive procedure that treats tumors of the lung and can be used to shrink a tumor before surgery or radiation
Cryotherapy - During this bronchoscopic treatment, cancer cells are frozen by delivering extreme cold directly into a tumor
Stent placement - Inserting a stent that can expand and open the airway when a tumor restricts an airway
Procedures to reduce fluid in the chest - A minimally invasive technique to insert drains to make a patient more comfortable when fluid accumulates in the chest and around the lungs
Why should patients choose Stony Brook Cancer Center for lung cancer treatment?
Our team of experienced specialists collaborate to create the best plan of care for each patient. Beyond that, we have the full services of Stony Brook Medicine for patients who need medical care in addition to their cancer diagnosis. We also have a Lung Cancer Screening Program and superb support services. This is the place to come when you or a loved one needs to be treated for a lung condition or cancer.

To make an appointment, with a doctor in the Lung Cancer and Chest Disease Program, call (631) 444-2981. For information about the Lung Cancer Screening Program, call (631) 638-7000.