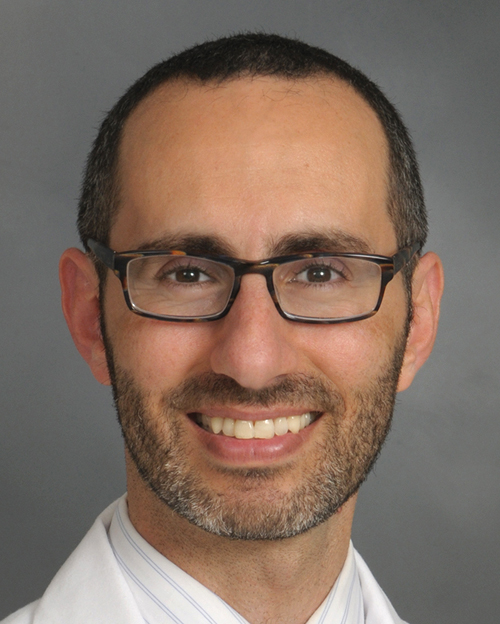 Guy Schwartz, MD
Movement Disorders Neurologist
Director, Stony Brook Huntington's
Disease Center of Excellence
Huntington's disease is a rare, genetic (inherited from a parent) disorder that affects the brain. It's estimated that three to seven people out of 100,000 live with Huntington's disease. And in its advanced stages, a person can die from complications from it. While there is no cure, there's an increasing amount of research devoted to finding one. There are also treatments that can provide hope and help a person's quality of life.
Why is it called Huntington's disease?
In the late 1800's, Dr. George Huntington was one of the first physicians to observe and study this disease. He published a now famous article, "On Chorea," describing in great detail about East Hampton families who suffered from this unusual condition. Over time, it became known as "Huntington's chorea" but because not everyone who suffers from the condition experiences chorea, the name was changed to "Huntington's disease."
Then what is chorea?
Chorea, which is sometimes a symptom of Huntington's disease, but not deadly, is one of several known involuntary movements, which also include more common ones such as tremor and tics. To the untrained eye, it can be challenging to identify chorea, because its appearance varies from one individual to another. Causes include a bad reaction to medications used to treat behavioral health and gastrointestinal disorders, rheumatic fever, pregnancy and Huntington's disease.
What are the signs of Huntington's disease?
In 90 percent of cases, symptoms appear between the ages of 30 and 50. In the earliest stage, a person may have difficulty thinking, or experience mood changes, work challenges and strained relationships with others. During this stage it's important to counsel family members that Huntington's disease symptoms often include more than just chorea. In fact, the chorea may not appear until many years later. That's when other motor (movement) symptoms appear, most often in the hands, feet and face causing lack of balance and clumsiness. In advanced stages of Huntington's disease, a person has trouble performing everyday activities such as walking, talking and swallowing.
How is Huntington's disease diagnosed?
Establishing a diagnosis is not always straightforward. The early psychological symptoms are not specific to Huntington's disease. They may be signs of another disease, such as psychosis, alcoholism or bipolar disorder, or no disease at all. Given the rarity of Huntington's disease, signs of chorea and other abnormal movements that are relatively mild may go unrecognized by the untrained eye. At Stony Brook, we conduct a thorough neurological exam, interview the person and look into their family history. If there is still uncertainty, a genetic test is available.
What are the pros and cons of genetic testing for Huntington's disease?
A genetic test can confirm the presence or absence of the DNA gene abnormality that causes Huntington's disease. However, it's not always helpful to get genetic testing for it. That's because not all individuals with the Huntington's gene abnormality have the disease. And some will not live long enough to experience symptoms. For others, a cure may become available long before onset of the disease. For a person with the classic symptoms and neurologic signs, family history and presence of the Huntington's gene abnormality, a definitive diagnosis can be made.
What treatments are there?
Although there is no cure or treatment that slows the progression of Huntington's disease or reverses it, there are treatments that can improve one's quality of life. These include therapy and medications for mood symptoms, drugs for chorea, and physical and occupational therapies to help a person perform everyday activities.
What sets Stony Brook apart?
Our hospital was recently ranked in the top four percent nationally in neurology and neurosurgery. We have one of the only four Huntington's Disease Society of America-designated Centers of Excellence in New York State. (There are only 50 nationwide.) Our team includes specialists from neurology, psychiatry, psychology, neuropsychology, physical therapy and speech pathology. We consult with specialists from medical genetics, fertility-obstetrics, occupational therapy and nutrition. And our patients also have access to clinical trials and virtual support group meetings.
For more information call Erin Harabes, LMHC, at (631) 444-3448. For an appointment with one of our Huntington's disease specialists call Isabel Melendez: (631) 444-2599.
stonybrookmedicine.edu/huntingtonsdisease