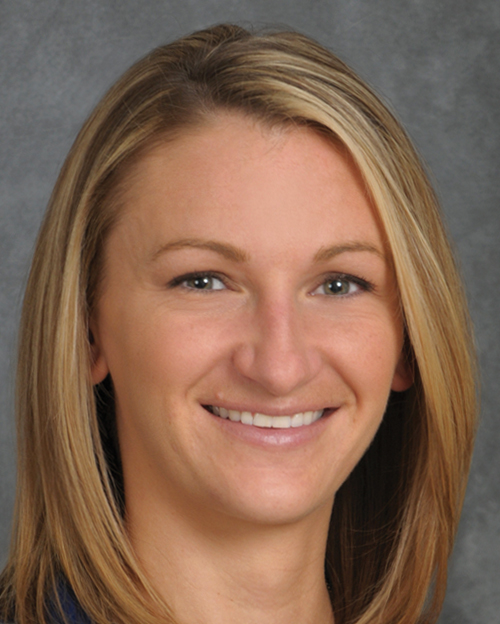 Kristi L. Ladowski, MPH
Injury Prevention & Outreach Coordinator
Stony Brook Children's Hospital
Stony Brook University Trauma Center
Right now families are spending even more time together at home. With summer here, that can mean lots of pool time and, sadly, preventable drownings. Kristi Ladowski, our injury prevention specialist, offers sound advice that can help keep your family safe.
How do these preventable drownings happen?
Most of the time drownings occur due to a lack of adequate adult supervision. Adults may think they can walk away for a minute and the child will be ok. They may think that an older child can watch younger ones. At a party setting or family get-together, it's very common for adults to think other adults are actively watching the kids. Unfortunately, that's not always true. Most people are also surprised to learn that the majority of drownings occur when a child was not expected to be in the pool. Drowning is a silent killer and can occur in less than a minute. Layers of protection are the best way to prevent drownings.
What do you recommend parents do?
Whenever it's swim time, make sure there is a "Water Watcher" who can oversee the pool continuously. To prevent attention fatigue during a gathering, it's best to designate several adults who can switch off with each other every 15-20 minutes.
Water Watchers Should:
• Be one specified person at a time
• Only watch the pool; do not socialize, read or use electronic devices
• Have a cell phone nearby, only to use in case of an emergency
• Stay sober
• Know where the safety devices are and how to use them
What safety devices should there be at a pool?
We recommend having a shepherd's hook or a life hook, a life-saving ring and CPR instructions mounted at poolside. Keep in mind that floaties and floating toys are not approved safety devices. But even approved flotation devices are no substitute for adult supervision.
What about when it's not swim time?
Pool fences are the most effective and proven way to prevent drownings. Pool fences should surround the pool on all sides and separate it from the yard and house. Do not rely on the house to serve as a barrier. Fences should be at least 4 feet high and not climbable; chainlink fences are not recommended. Fence gates should be self-closing and self-latching, with the latch at least 54 inches from the ground. Install alarms on all entrances to the yard (including gates, doors and windows). And be sure to lock house exits when children should not be outside. All floats and pool toys should be removed from the pool when it's not swim time so they do not attract children to the pool.
But kiddie pools are safe, aren't they?
Not necessarily. Kids can drown in just an inch of water. Kids using inflatable or plastic kiddie pools should be watched as carefully as they are in larger pools. For toddlers, age 1-4 years, use "touch supervision" in and around all pools; always staying within arm's reach. If you need to leave the pool area, take your toddler with you. After use, empty and clean all backyard containers including buckets, wading pools and coolers with melted ice, to prevent drowning and waterborne diseases.
What other safety measures do you recommend?
I also suggest that every adult who has a pool gets trained in CPR. Many classes are offered here on Long Island, and now there are even online courses available. If you're having a pool party for kids or adults, you could also consider hiring a certified lifeguard.
When it comes to child safety, what sets Stony Brook Children's apart?
A key element of our care is prevention. We don't ever want your child to have to come to our Emergency Department. That's why we provide many safety programs to families and schools all year long, hold numerous safety events, and offer free classes within the community. However, emergencies will happen anyway. Stony Brook Children's has the only 24/7 dedicated children's Emergency Department in Suffolk County, with specialists available at all times to treat virtually every type of injury or illness.
Important: In the event of a drowning or near-drowning, immediately call 911 and start performing CPR.