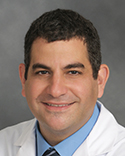 On Chen, MD
Director, Center for Advanced Lipid (Cholesterol) Management
Stony Brook Heart Institute
People with high cholesterol — that's more than 70 million Americans — have about twice the risk of heart disease as people with lower levels. But fewer than one out of every three has the condition under control. The good news: Cholesterol is one of the most manageable risk factors for heart disease, which is the leading cause of death in the United States. Here, On Chen, MD, interventional cardiologist and Director of Stony Brook's Center for Advanced Lipid (Cholesterol) Management, explains.
What is cholesterol?
Cholesterol is a fatty substance that is largely produced naturally by your body in your liver. A smaller amount is absorbed by the foods we eat. Cholesterol is complicated. It can be harmful, but it is also necessary for your body to function properly, helping in the manufacturing of hormones, building of cell tissue and as an aid in digestion. At harmful levels, cholesterol can build up as artery-clogging fatty-deposits (plaque), which is a major risk factor for heart attack, coronary artery (heart) disease and stroke.
What is a lipidologist?
A lipidologist is an expert in the identification and management of lipid (cholesterol) disorders, and in the prevention of cardiovascular disease. A lipidologist provides advanced diagnosis and treatment to help you take control of your cholesterol and reduce risk factors. Some of the more common reasons to see a lipidologist include:
You have heart disease and have not been able to achieve optimal cholesterol levels.
You've experienced intolerance or adverse effects from cholesterol-lowering medication.
You have a known cholesterol imbalance with very high cholesterol levels.
You have a family history of elevated cholesterol levels, or a family history of heart disease diagnosed early in life.
You have multiple cardiovascular risk factors, and your doctor is concerned that you are at high risk for heart disease.
How can the Center for Advanced Lipid (Cholesterol) Management help?
We are dedicated to meeting your optimal health goals. An effective lipid-lowering treatment plan can be lifesaving. While there are risk factors that are not within our control — such as age or family history — there are many crucial factors that we can influence to reduce risk and improve quality of life for our patients.
At the Advanced Lipid Center, you will meet with a cardiologist with specialized training and certification through the American Board of Clinical Lipidology, and be treated by a team that is well equipped to help solve even the most complex lipid (cholesterol) disorders. Even if you already have cardiovascular disease, it is not too late to lower your risk. Our goal is to provide earlier diagnosis so that our patients can be proactive and prevent premature heart disease. I'd much rather see patients early to be aggressive with prevention.
What makes the Lipid Center different?
In addition to working with you to develop a personalized plan to make healthy lifestyle changes, we perform an in-depth workup, including a detailed assessment of cholesterol particles, inflammatory markers and imaging to allow a thorough understanding of your cardiovascular risk.
We provide genetic testing to clarify your diagnosis and tailor your treatment to target the underlying problem. We also screen for metabolic disorders such as diabetes, hypothyroidism, obesity and obstructive sleep apnea since they are closely associated with heart disease and high cholesterol. After evaluating your overall risk, cholesterol levels and tolerance to medication, we will adjust your regimen and, when necessary, introduce new medication and cutting-edge treatments to overcome adverse effects and reach your cholesterol goals. And, at Stony Brook, we are at the forefront of new research that may have the potential to improve the care of patients with heart disease and high cholesterol.