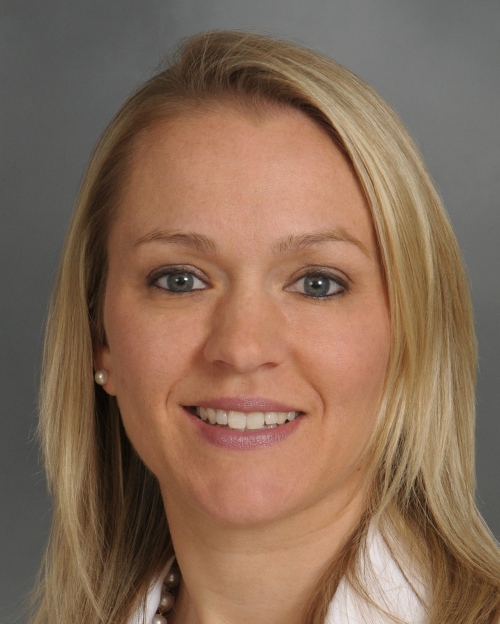 Laura Hogan, MD
Division Chief
Division of Pediatric Hematology/Oncology
Stony Brook University Cancer Center 
Laura Hogan, MD, Division Chief, Pediatric Hematology/Oncology, Stony Brook University Cancer Center, answers the most common questions from parents about childhood cancer.
What did we do wrong - did we miss something?
Parents need to understand that it's not their fault. We don't really know what causes most childhood cancer, so there is nothing parents could have done differently to prevent it. As far as we know, for most childhood cancers, there are no identified environmental factors. The usual signs of cancer in children are the same as for most common childhood illnesses. Just because the symptoms were there for a while doesn't mean the parents or the pediatrician "missed" something. Most commonly, the symptoms that led the parent to seek medical evaluation have been present for at least a few weeks and frequently longer.
Where should we seek treatment?
Because of shared protocols and best practices, almost every pediatric oncology program delivers the same standard of care with similar outcomes. However, the style of the care may differ from program to program. What you need to think about is the level of support a hospital can give you and your family. You may want to consider a facility close to home, due to the toll that extended travel can take on a sick child and the rest of the family — particularly if there are other small children at home. You also want to look at the hospital's resources in case your child faces an emergency situation, including access to a quality pediatric intensive care unit (PICU) and a sophisticated blood bank.
Should we consider a clinical trial?
If the hospital you choose is a member of the Children's Oncology Group (COG) as Stony Brook Children's is, you'll have access to the most current national clinical trial for your child's type of cancer. Many people think that trials are "experimental." While technically true, in most cases, when recommended as the initial treatment, the clinical trial drugs used are known to be effective in that child's cancer. Many trials study new combinations of drugs, new ways to administer them, different dosages and so on. Or the drug being used may need to be tested on a larger patient population to validate earlier good results. Generally, a clinical trial offers a child the most advanced treatment before it is readily available. It is not without risk, however, and it is entirely the parents' choice whether to enroll their child in a study. At Stony Brook Children's, we spend as much time as parents need explaining the risks and benefits of a clinical trial.
What about school?
You want to do everything you can to ensure that your child does not fall behind, as well as keep him or her connected to the other students in the class. Our School Intervention and Re-Entry Program, which has become a national model for other programs, not only arranges for tutoring in the hospital and home, but also works with the child's teachers, classmates and other school personnel to smooth the transition back into the classroom. This can involve everything from answering the other students' questions and explaining the diagnosis in age appropriate language to creating an education plan and arranging for accommodations that can help make the transition easier.
Are there any cures on the horizon?
There is so much good news about childhood cancer — in the past 38 years it has gone from a less than 20 percent survival rate to an approximate 75 percent overall five-year cure. As an academic medical center, Stony Brook has a strong research program with scientists dedicated to studying childhood cancer. Current projects focus on factors that can identify if a child has a particular gene mutation in the leukemic cells. These mutations may predict whether the leukemic cells would not respond to the usual chemotherapy treatment, as well as if a child might relapse after treatment. Additional studies are trying to find specific gene-based targets to treat certain types of solid tumors. Other studies look at issues associated with cancer survivors including bone problems resulting from cancer chemotherapy.
To learn more visit stonybrookchildrens.org. To make an appointment call (631) 638-1000.