1990
Hospital is designated a Level I Trauma Center for Suffolk County.
Otolaryngology program, speech and dermatology programs begin.
CPEP, Comprehensive Psychiatric Emergency Program, opens.
First Employee Recognition Program is held.
The "BEST" (Bringing Excellence and Service Together) newsletter begins publication to keep employees informed of hospital events and expansion.
Hospital initiates a smoke-free policy.
Operating Rooms are expanded based on need.
1991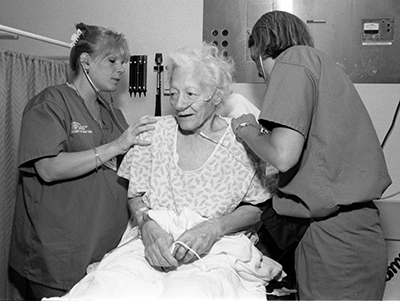 Nurses care for a patient.
Neonatal Intensive Care Unit expands from 30 to 40 beds.
The Long Island State Veterans Home opens across from the hospital.
504 beds are now open and staffed, reaching 100 percent completion; 2,955 babies are born.
1992
Hospital lobby is renovated.
Geriatric Unit and satellite laboratory open.
Introduction of Administrative Grand Rounds and Service Line Administration for cardiovascular, cancer and trauma.
Newsday features the hospital's growth in front page article titled "Promises to Keep."
2,901 babies are born.
1993
Stroke Unit opens at the hospital.
Hospital performs its first cryosurgery for prostate cancer.
University Hospital, clinical operations of the School of Medicine and managed care initiatives, renamed "University Hospital and Medical Center."
2,868 babies are born.
1994
The National Institutes of Health awarded a $9.3 million grant to fund the opening of the Women's Health Initiative Clinical Center, one of only 44 in the nation.
The hospital, together with SUNY Brooklyn and Albany, also state-owned and operated academic medical centers, is prevented from joining with other healthcare networks in the region.
On July 1, Michael A. Maffetone, DA, assumes position as Hospital Director and Chief Executive Officer.
The Cancer Helpline, HealthCalls and the Doc-to-Doc services begin under the auspices of Healthcare Teleservices. A national record of 500+ calls is received in July.
The FDA approves ReoPro® (abciximab), developed by Barry S. Coller, MD, Distinguished Service Professor of Medicine and Pathology. ReoPro has helped millions of patients prevent heart attacks after angioplasty and stent procedures.
Operating budget exceeds $200 million.
3,200 babies are born.
1995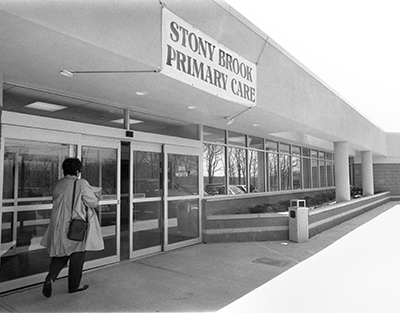 Stony Brook Primary Care
The hospital becomes the first in the nation to voluntarily extend length of stay for maternity patients to two days, or four days if patient had a caesarian section, bringing national press coverage, including "Today" and "Nightline."
The Surgical Care Center and Breast Care Center open at Stony Brook Technology Center in East Setauket.
Norman H. Edelman, MD, is appointed Dean of the School of Medicine.
1996
Hospital is named one of the nation's "Top 100 Hospitals" and one of the "Top 15 Major Teaching Hospitals," in Modern Healthcare.
Primary Care Center opens at Stony Brook Technology Center.
New Maternity Center opens with state-of-the-art equipment.
Newsday's Sunday edition front-page story is titled "Eyes on the Prize: The Fight over Stony Brook," with subheading "From East to West, Hospitals Vie for Suffolk's Premier Medical Center. Only Hitch Is, It's Not for Sale."
Organizational restructuring takes place. The "Hospital within a Hospital" format calls for formation of five hospitals: Women's and Children's, Surgical, Medical, Mental Health and Cardiac.
Norman H. Edelman, MD, Dean, School of Medicine, is named Vice President of the Health Sciences Center.
Operating budget is approximately $300 million.
3,510 babies are born.
1997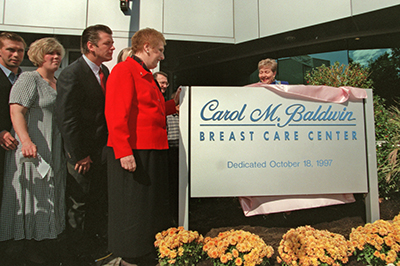 The dedication for the Carol M. Baldwin Breast Care Center
Health Resource Center is opened in hospital lobby.
Sextuplets, the third set in the United States and only the 10th set in the world, are born in the new Maternity Center. Born to Rocco and Beverly Boniello, the children's names are Trifon, Olivia, Sabrina, Gerard, Sophia and Stella. The sextuplets are the largest multiple birth ever on Long Island.
Actor Alec Baldwin appears at press conference to announce his family's pledge to raise $1 million for breast cancer research at Stony Brook in honor of their mother, Carol Baldwin, a breast cancer survivor.
Breast Care Center is rededicated and named the Carol M. Baldwin Breast Care Center.
1998
The hospital is named one of the top 15 teaching hospitals in a study that examined 3,575 hospitals nationwide.
Allergy and Asthma Centers open in Hampton Bays.
Carol M. Baldwin Health Screening Center opens in the Smith Haven Mall.
1999
Hospital signs a Memorandum of Understanding to explore the option of joining the Long Island Health Network.