1980
February
The University Hospital opens 30 beds and the Ambulatory Care Pavilion.
800 people are employed by the hospital.

The hospital is formally dedicated on
May 24, 1981.

February 17: Administrator Michael Elliott receives call from the State Health Department authorizing the admitting of patients.
February 18: The first two patients are admitted to the hospital.
May
May 24: The hospital is formally dedicated.
May 28: The first baby is born at the hospital, Jeffrey Eric Solomon.
July
Neonatal Intensive Care Unit opens, the first in Suffolk County.
August
Pediatric Intensive Care Unit (PICU) opens with 20 beds.
October
Mobile intensive care ambulance is available to handle emergencies, including surgery. The unit is used to transfer the first patient from another hospital in the community to the PICU.
Emergency Department and Radiology Department open.
1981
The Stony Brook University Hospital Auxiliary is founded by a group of women, including Carolyn Fell, Ann Poppers, Uta Dee and Beverly Sokoloff, with a goal to raise funds for the "benefit of patients, families and staff of the hospital and provide public information programs to serve surrounding communities."
Dr. Felix Rapaport and Dr. Wayne Waltzer perform the first kidney transplant at the hospital, also the first on Long Island.
The hospital is designated as the Long Island Regional Transplantation Center for kidney transplantation.
Mobile intensive care unit treats two men overcome by paint fumes after falling into a water tank in Centereach after their scaffolding collapsed.
165 residents arrive and begin their studies in Family Medicine, Medicine, Neurology, Orthopedics, Psychiatry and Surgery departments.
Hospital is one of the few in the state staffed entirely by RNs.
Hospital is becoming known for cutting-edge medical treatment and research.
Hospital is at the forefront of developing patient informatics; touch-screen computer terminals are located at nursing stations.
Database software, designed by Stony Brook staff members, serves as a model for other institutions.
Hospital has area's only full-body CT scan unit.
Hospital establishes itself as the Joint Replacement Center for Long Island.
Hospital is drawing national recognition for clinical research efforts.
Hospital's First Year, 1980-81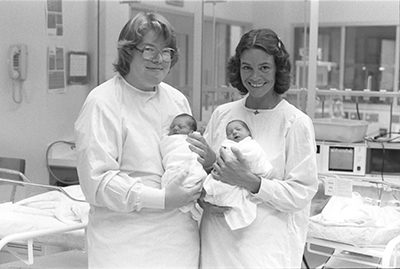 NICU nurses and twins
Neonatal Intensive Care Unit treats its first patient.
150 of the 504 beds are open and occupied.
4,500 patients have been admitted to date.
45,000 patients passed through the ambulatory care unit.
More than 1,000 surgeries performed.
243 babies are born.
1982
Dr. Constantine Anagnostopoulos and a team of Stony Brook surgeons perform the first adult open-heart surgery, coronary bypass graft.
Dr. Jorge Benach and team announce discovery of spirochete responsible for Lyme disease, fortifying the hospital's role as a research center.
Annual budget approaches $100 million; more than 1,200 people are employed by the hospital.
236 beds are open; 1,146 babies are born.
1983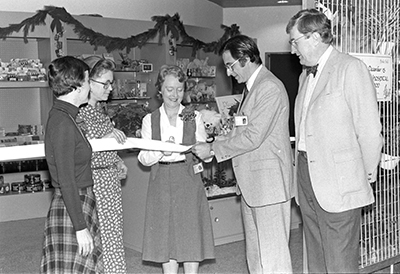 Opening of the Hospital Auxiliary Gift Shop
New guidelines concerning how hospitals receive reimbursement for patient stays under Medicare are enacted.
Stony Brook dealing with slow, steady decline in subsidies from New York State.
William Newell is named Executive Director.
Hospital Gift Shop is renovated by auxiliary volunteers; shop is staffed by auxiliary.
An additional 70 beds open.
October 11: Baby Jane Doe, born with severe birth defects, is transferred to Stony Brook University Hospital. Legal issues ensue when the baby's parents decide to withhold treatment since the prognosis is not good. Lawyers from a right-to-life group, accompanied by a New York State Supreme Court judge and a representative from the Suffolk County District Attorney's Office, arrive at the hospital demanding to see the baby and her records.
October 16: A. Lawrence Washburne, attorney, files suit at State Supreme Court asking that a guardian for Baby Jane Doe be appointed.
The Baby Jane Doe case draws national attention, rising up through the U.S. Supreme Court, which refused to hear the case. The case receives intense scrutiny, with then President Ronald Reagan commenting.
Efforts to overturn the parents' decision fail.
303 beds are open; 1,447 babies are born.
1984
Hospital continues to expand and grow into its role as Suffolk County's tertiary care hospital.
Ambulatory Surgery Unit, Radiation Oncology, Cardiovascular Intensive Care Unit and Burn Unit, which is designated as the regional center for burn care, open.
Dr. Paul Lauterbur, Stony Brook University Professor of Chemistry, is awarded the Albert Lasker Award for Clinical Medicine, for his pioneering work in the development and refinement of nuclear magnetic resonance imaging (MRI) scanners. Dr. Lauterbur subsequently receives the Nobel Prize in Physiology or Medicine in 2003 for his part in developing MRI technology.
1985
Hospital ambulatory care space deemed inadequate.
Ceremony held to note fifth anniversary of the opening of University Hospital.
New parking facility for University Hospital is approved.
Hurricane Gloria hits Long Island. The hospital suffers slight damage; however, the stucco covering of the Health Sciences Center, under repair at the time, is seriously damaged, leaving the building vulnerable to the elements.
1986
University Hospital is reaccredited.
Surgeons perform more than 100 open-heart surgeries.
A birthing room opens and the Neonatal Intensive Care Unit is expanded.
453 beds are open; 2,096 babies are born.
1987
Health Sciences Center refacing project begins.
Construction of third tier of University Hospital garage begins.
A groundbreaking is held for the Long Island State Veterans Home.
School of Social Welfare relocates within Health Sciences Center.
Continued expansion includes the opening of the Hand Surgery Center, Allergy Disease Center, Cardiac Catheterization Laboratory, Shock-Trauma Unit, Lyme Disease Center and designation as a regional Cancer Center and AIDS treatment center (one of only two in the state at the time). In addition, expanded services include Gynecologic Oncology, Metabolic Diseases and Child Psychiatry.
Urology staff performs its first lithotripsy, a noninvasive treatment for kidney stones through the application of high-intensity sound waves.
480 beds are open; 2,477 babies are born.
1988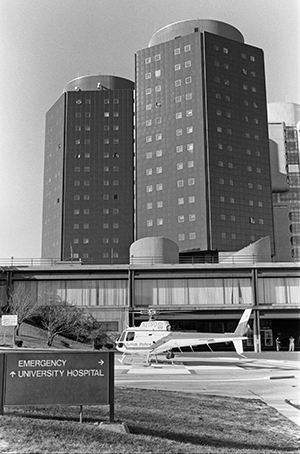 Suffolk County Police helicopter on the hospital's helipad
The Burn Center opens the only living skin bank on Long Island.
Magnetic Resonance Imaging (MRI) services and a second Cardiac Catheterization Lab open.
Jordan Cohen, MD, from University of Chicago's Pritzker School of Medicine, is named Dean of the School of Medicine.
Grumman donates Mobile Intensive Care Unit to University Hospital.
The medical staff grows to more than 500 physicians.
2,606 babies are born.
1989
The first Suffolk County Police helicopter touches down on the hospital' s helipad, a result of an agreement between the hospital and the police to provide helicopter transport of the critically ill or injured to Stony Brook University Hospital from throughout Suffolk County.
Diabetes Unit opens in the hospital with 14 beds.
Hospital outpatient offices expand to Technology Park in East Setauket, one mile east of the hospital.
2,626 babies are born. 
By the End of the Decade:
Research funding tops $35 million.
2,300 people are employed.
Operating budget is more than $200 million.
480 of 504 beds are open and occupied at the hospital.