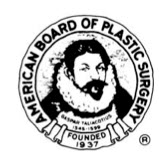 The American Board of Plastic Surgery (ABPS) is 1 of 24 specialty boards that are recognized by the American Board of Medical Specialties and the American Medical Association. Like the other specialty boards, the ABPS certifies surgeons as having met certain published standards of excellence for the specialty of plastic surgery.
To become board certified in plastic surgery, a surgeon must first be well trained in the resection, repair, replacement, and reconstruction of defects of form and function of the skin and its underlying anatomic systems, including the craniofacial structures, the oropharynx, the trunk, the extremities, the breast, and the perineum.
This training includes aesthetic (cosmetic) surgery of structures with undesirable form. Special knowledge and skill in the design and transfer of flaps, in the transplantation of tissues, and in the replantation of structures are vital to these ends, as is skill in excisional surgery, in management of complex wounds, and in the use of alloplastic materials.
Click here for more information about the meaning of board certification in plastic surgery, provided by the American Board of Plastic Surgery.