Stony Brook's plastic surgeons have been recognized for their excellence by selection for inclusion in the present and past editions of the Castle Connolly Guides, America's Top Doctors, representing the top 1% of physicians in the nation; and Top Doctors: New York Metro Area. In addition, the faculty has been selected for inclusion in Guide to America's Top Plastic Surgeons (Consumers' Research Council of America).
Our plastic surgeons are all board certified and specially trained to perform both reconstructive and cosmetic surgery (see their profile pages for their board certifications). Among their specialties are:
Breast surgery, including breast reconstruction after cancer, breast reduction, and breast augmentation

Nose surgery

Treatment of facial fractures

Hand surgery

Reconstructive surgery for burn patients

Cosmetic surgery, including facelift, general liposuction, total body contouring, and tummy-tuck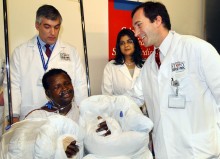 At our Plastic & Cosmetic Surgery Center in East Setauket and at our Bellavie MedSpa in Centereach, our specialists offer the entire spectrum of cosmetic and aesthetic procedures including non-invasive, minimally invasive, moderately invasive, and full surgical treatments.
Our plastic surgeons use not only conventional surgical approaches, but also the latest microsurgical techniques which offer truly state-of-the-art care for patients with certain problems that, until recently, were virtually untreatable.
In 2005, for instance, our surgeons performed what is believed to be the first simultaneous reattachment of hands done in New York State. See the video (6:23 min) about this historic surgery.
Our plastic surgeons contribute to the excellence of the Stony Brook Cleft Palate-Craniofacial Center that provides specialized multidisciplinary care for children of all ages born with cleft lip/palate and other defects affecting the head (cranium) and/or face.