Patient Privacy, Patient Trust, Quality Care
The Health Insurance Portability and Accountability Act (HIPAA) of 1996 provides significant privacy protections for the health information of patients and research participants. At Stony Brook University Medical Center we are dedicated to patient care, education, research and community service. Paramount in our mission is the assurance of patient privacy, patient trust and quality care.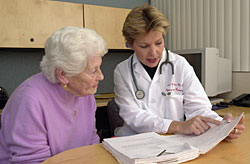 Stony Brook University Medical Center is implementing HIPAA in a manner that is aligned with its business strategy, clinical and systems initiatives. This implementation includes changes in technological, clinical and management processes, including personnel practices and training. As part of this effort the Stony Brook HIPAA Steering Committee is leading the endeavor to achieve HIPAA compliance through multidisciplinary input from stakeholders throughout the University. The Steering Committee works closely with departments, faculty and staff to ensure that patient care, education, research and community service activities continue while ensuring compliance with HIPAA regulations.

Health care professionals have a long-standing commitment to patient privacy; at Stony Brook University Medicine this commitment is vital to the realization of our mission.
You can review more information on the Office of Civil Rights HIPAA Website:
Office of Civil Rights Department of Health and Human Services