Stony Brook Medicine's Health Occupations Partnership for Excellence (HOPE) program celebrated the achievements of its 10th graduating class at an inspiring "graduation" ceremony on May 8 at Stony Brook University Hospital.
HOPE began in 2005 with the expressed purpose of decreasing healthcare disparities by increasing the number of healthcare providers from underserved racial and ethnic minority communities. Its first graduates completed the program in 2008.
HOPE is a two-year afterschool program that creates opportunities for promising high school students from underserved and underrepresented communities to learn about careers in healthcare. Through classes and workplace shadowing experiences with Stony Brook Medicine faculty, they learn about their lives and the skills it takes to be nurses, physicians, physical therapists, laboratory technicians and other healthcare professions.
Students from the Brentwood, Longwood and Wyandanch school districts participate in the program. Through the years, 141 HOPE graduates have gone on to attend institutions of higher learning such as Boston University, SUNY Binghamton, Brown University, Duke University, Howard University, Massachusetts Institute of Technology, New York University, the University of Pennsylvania, and Stony Brook University.
Attending this year's ceremony were two HOPE alumni, one of whom just graduated from medical school and will begin his residency at a local community hospital. Yvonne Spreckels, Director of Community Relations for Stony Brook University Hospital and Director of the HOPE program remarked that "HOPE provides multidimensional exposure to heath careers, builds confidence, and gives students skills that will help them to succeed as they pursue their dreams in college and beyond the classroom."
For more information about the HOPE Program, click here.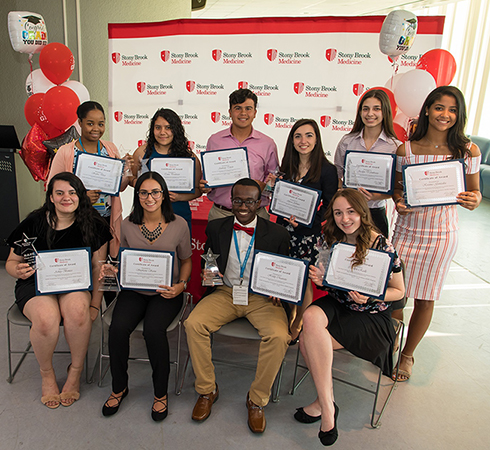 Back row, from left: Sophia Desir, Tania Prudencio, Anthony Toledo, Alyssa Arbuiso, Jacalyn D'Ambrosio, Kristina Gonzalez
Front row, from left: Ashley Benitez, Stephanie Savin, Holdy Chauvette, Carolyn Radle