Coordinated through Stony Brook University Hospital's Department of Community Relations, the HOPE (Health Occupations Partnership for Excellence) program promotes and fosters the development of promising high school students from underserved, racially and ethnically diverse communities, and strives to support them in pursuing a college education and future careers in the health care industry. Through classes and workplace shadowing experiences with Stony Brook faculty, they learn about their lives and the skills it takes to be nurses, physicians, physical therapists, laboratory technicians and other healthcare professions. Activities span two academic years and provide education, mentorship and volunteer opportunities. Participating districts include Brentwood, Longwood and Wyandanch.
The HOPE (Health Occupations Partnership for Excellence) program is part of Stony Brook Medicine's Health Initiative for Underserved Communities which strives to work closely with grassroots organizations to improve access to care, provide community health education programs and screenings, and support efforts to meet the needs of people living in underserved communities.
For more information, contact us at (631) 444-5250.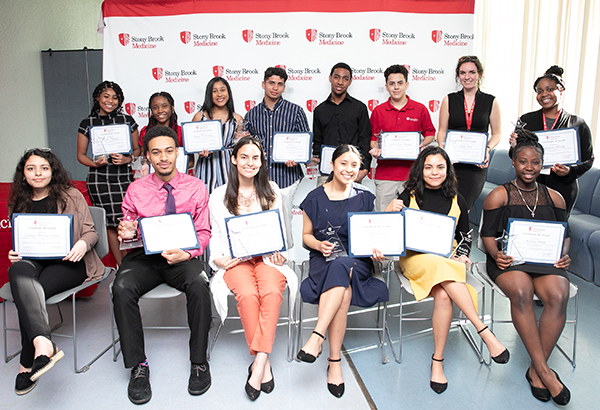 High School seniors from high needs school districts celebrate their graduation from Stony Brook University's HOPE Program on May 7, 2019
Back row, from left: Trinity Velazquez, Jada Neat-Ramos, Daniela De La Rosa, Kevin Garcia, Matthew Lewis, Felipe Iniguez Vintimilla, Jaclyn Koch, Riyahauna Headley
Front row, from left: Melanny Herrera-Marquez, Domanic Bravo, Ana Recinos, Kelly Martinez, Yessica Martinez,
Kanesha Strider