HOPE SPRINGS ETERNAL
Stony Brook Medicine's Health Occupations Partnership for Excellence (HOPE) program held an inspiring "graduation" ceremony virtually on May 11. Sixteen high school seniors from the Brentwood, Longwood, and Wyandanch school districts were honored at the ceremony, and four of the graduates will enter Stony Brook University in the fall of 2021.
Since 2005, the HOPE program has launched the college careers of 196 young people interested in pursuing careers in healthcare.  The two-year program's goal is to decrease healthcare disparities by increasing the number of healthcare providers from underserved and underrepresented racial and ethnic minority communities.
Students in the HOPE program spend two years after school on the Stony Brook University Hospital campus and discover everything from the college application process to the inner workings of an Operating Room. The coronavirus pandemic caused the program to function remotely during the 2020-2021 school year. Stony Brook faculty and staff provided virtual educational lectures and mentoring sessions to the students.
The HOPE students "have shown the world their tenacity and resolve to rise above anything that's been thrown at them and triumph," said Yvonne Spreckels, MPA, Director of Community Relations at Stony Brook University Hospital and the Director of the HOPE program. "They have persevered throughout a global pandemic, remote learning, and great uncertainty, yet never lost sight of the promising future that's before them."
During the ceremony, each graduate reflected on what they learned during the program and the impact HOPE made on their lives. Diana Sanchez from Brentwood High School, who wants to be a dentist, said that it was an "eye-opening experience" for her. She will be attending St. Joseph's College in the fall. Kayla Meyers from Longwood High School wants to be an anesthesiologist and will attend Stanford University. She said the HOPE program taught her "the power of teamwork and the importance of building relationships."
"The HOPE program creates opportunities for high school students from underserved and underrepresented communities to learn about careers in healthcare and to support their academic achievement," Spreckels said.
HOPE graduates will be attending Stony Brook University (four), Adelphi University, Farmingdale State College (three), Lincoln University, St. Joseph's College, Stanford University, Suffolk County Community College (two) and Vassar College.
Attending this year's ceremony was Michael Lonergan, DSW, Superintendent of the Longwood Central School District. Dr. Lonergan commended Stony Brook Medicine for the "absolute dedication of the staff at Stony Brook to want to genuinely be involved with our students, care for them, and show them what it's like in the particular occupations that they hold. That has never, ever varied from year to year, but only become that much more intense as time has gone on."

For more information, contact us at (631) 444-5250.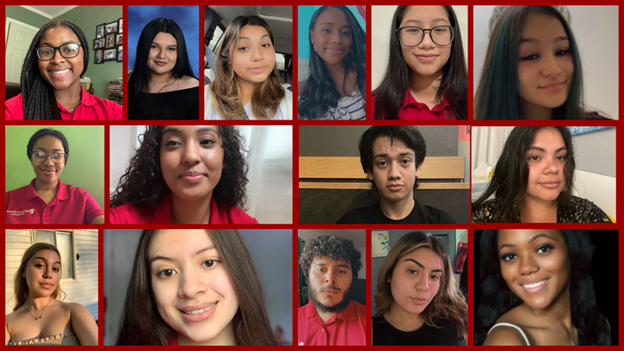 High school seniors from high needs school districts who graduated from Stony Brook Medicine's HOPE Program on May 11, 2021:
top row, left to right: Kayla Myers, Clarissa Padilla, Wendy Rojano, Isabelle Lewis, Nathalia Lascano and Allison Martell 
middle row, left to right: Tatiana Fenwick, Diana Sanchez, Carlos Sorto Reyes and Kenia Sanchez
bottom row, left to right: Emily Cruz, Leidy Benitez, Jeffrey Torres, Katherine Amaya and Carmen Delaney