Healthy Food
Overview: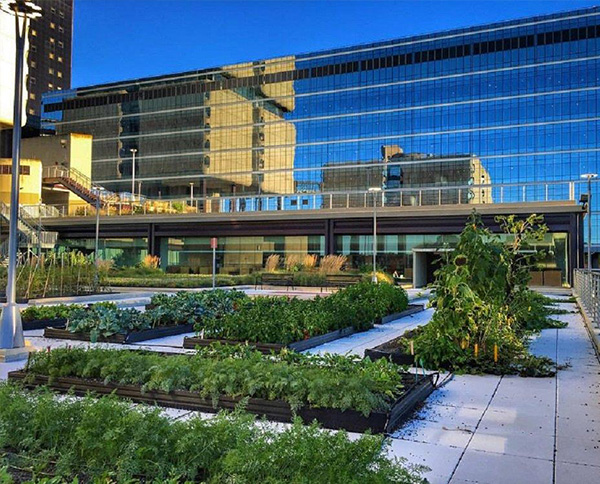 In the face of ever-growing rates of diabetes (which affects more than 26 million Americans) and obesity (more than 68 percent of Americans are considered obese or overweight), it would make sense for hospitals to be sources of healthy food. But in many hospital cafeterias — and on the meal trays served to patients — there aren't many healthy beverage and food options. Hospitals that recognize the undeniable link between nutrition and health are changing their ways. Many healthcare facilities maintain onsite organic gardens and host farmers markets. Locally grown meat, poultry and produce are beginning to show up in meals offered to patients and visitors. Food waste, which accounts for more than 20 percent of a hospital's total waste volume, is also being addressed. In addition to offering healthier food in their own facilities, hospitals are helping communities create sustainable food systems (these are collaborative networks that integrate food production, processing, distribution, consumption and waste management.)
---
Quick Links:
Goals 2021:
Increase composting by 10 percent.
Introduce more plant-based, compostable, materials for single use.

Highlights: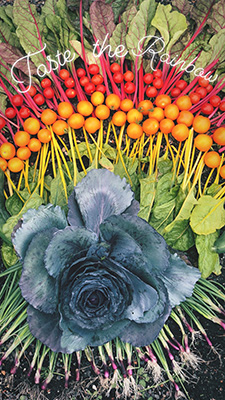 The Nutrition Division (Department of Family Medicine) is part of Creating Healthy Schools and Communities (a New York State Department of Health-funded project) and the Suffolk County Food Policy Council.
During harvest season, we implement a farm-to-bedside model. Our 2,242-square-foot rooftop garden – known as Stony Brook Heights Rooftop Farm – supplies approximately 1,500 pounds of produce for patient meal trays and local charities.  When appropriate, a tent card is placed on patients' trays, explaining that part of their meal was harvested from the rooftop garden. During the growing season, we make weekly produce donations to the Women Infant and Child Nutrition Program, our campus food pantry and a local social service agency.
With the intention of bringing sustainably grown, healthy produce to people in low-income communities, we developed a private-public partnership with the Crave Foods Company, to build a "virtual food web" via a web-based platform they created called Source What's Good. The platform is used by suppliers (local farmers, fishermen and artisans) to communicate available products, manage their orders and bid on long-term purchasing requests. Buyers use the platform to discover new sources, order ingredients and project future need. We work with targeted school districts to use the platform, as their large purchases can drive delivery to low-income areas. We also work with small community agencies, who collaborate with their local school districts and benefit from volume-based pricing and distribution. All financial interactions occur directly between farmers and buyers via the platform. We are beginning to work with potential distributors on distribution from Long Island farms to the schools, and with small stores/agencies in the same community to pick up local produce.
In our cafeteria, we changed the placement of beverages to encourage healthy choices. All the poultry served is antibiotic-free and we purchase all our green leafy vegetables direct from a local farm.  We promote the use of tap water, with a water bottle filling station available to staff and visitors. Our food donations to a local charity are helping us reduce food waste.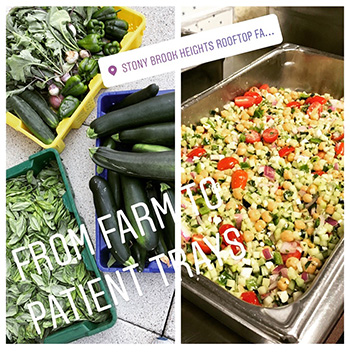 We offer reusable beverage containers and reusable takeout containers. Diners can purchase a reusable container for $5. When they return it, they can exchange it for a new container or get a token for a container to be picked up later on. Diners will receive a $5 refund at the end of the semester if they return their container or token.
We offer an online Masters of Science degree in Nutrition, with a new concentration in Sustainable Food Systems and Health. We give a presentation, titled "Nutrition Therapy in the Outpatient and Inpatient Settings", to internal medicine residents here at the hospital. Topics include ways in which our country's food supply has been affected by issues of water, pesticides, plastics, wastewater and animal feed.
For the community, we offer tours of our rooftop farm, cooking classes, fitness/weight management programs, and menus/recipes for cooking with farm stand ingredients.
We run a farmers market and a CSA (Community Supported Agriculture) program in collaboration with a local organic farm.
We encourage our food suppliers to improve their tracking and traceability of local foods and beverages – in their ordering, invoicing and reporting systems – to ensure that the foods and beverages are local.
Recognition: 
Josephine Connolly-Schoonen was named 2012 Woman of the Year in Health by TBR News Media for her work with the rooftop farm. Her efforts also received the Long Island Business Association Health Care Hero Award in 2015, in recognition of our farm-to-bedside model. 
Team:
Josephine Connolly-Schoonen, Michael West
Policies:
Stony Brook Medicine Nutrition Policy