Healthy Food
Overview: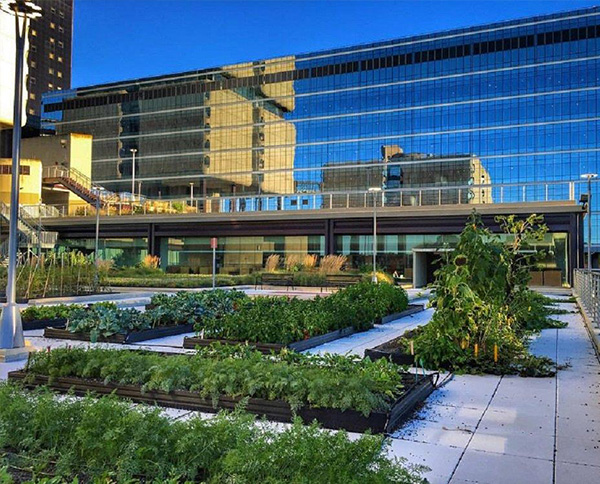 In the face of ever-growing rates of diabetes (which affects more than 26 million Americans) and obesity (more than 68 percent of Americans are considered obese or overweight), it would make sense for hospitals to be sources of healthy food. But in many hospital cafeterias — and on the meal trays served to patients — there aren't many healthy beverage and food options. Hospitals that recognize the undeniable link between nutrition and health are changing their ways. Many healthcare facilities maintain onsite organic gardens and host farmers markets. Locally grown meat, poultry and produce are beginning to show up in meals offered to patients and visitors. Food waste, which accounts for more than 20 percent of a hospital's total waste volume, is also being addressed. In addition to offering healthier food in their own facilities, hospitals are helping communities create sustainable food systems (these are collaborative networks that integrate food production, processing, distribution, consumption and waste management.)
---
Quick Links:
Goals 2023:
Open food pantry pilot project, which in addition to distributing non-perishable healthy foods, will distribute produce from the Stony Brook Heights Rooftop Farm. The goal is to distribute 500 pounds of heathy food to 100 food-insecure patients during our pilot program. 

Highlights: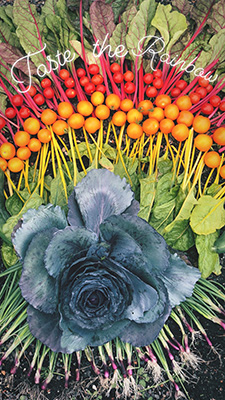 In 2022 our goals included increased composting, introducing more plant based, compostable materials for single use, and reviewing kitchen equipment for energy efficiency.  We made progress towards those goals. 
Additionally we set a goal to develop a culinary medicine class for medical students.This was met by:
•    Providing five nutrition workshops for medical students in the Lifestyle Medicine course for 3rd and 4th students (throughout April 2022, including a supermarket tour and 2 culinary medicine workshops); 
•    Working with Lifestyle Medicine Interest Group to host a virtual cooking class, April 27, 2022; 
•    Facilitating a new medical student Cooking Club, Stony Cooks and hosting a virtual cooking class for club on 2/20/2023; pasta and mushrooms
Stony Brook Medicine is an active member of Practice Greenhealth. Practice Greenhealth asks hospitals to look at sustainability aspects of food and Stony Brook University has taken steps to improve the sustainability profile of their food services.
Health care organizations nationwide are offering healthier menus, working with farmers to purchase locally and sustainably grown products, reducing the amount of meat they purchase and serve, and going beyond their walls to help meet the food needs of their community, all in an effort to achieve major goals for both the facility and the surrounding community such as:
Improving the nutritional value of food available to patients, employees, and visitors that will also improve their overall health.
Increasing access to healthy food options for the community, as a lack of secure food sources can be a major factor affecting physical health and emotional well-being.
Building an environmentally sustainable food system for the long-term benefits of the communities they serve.
Community leaders, hospitals, and health care providers have a unique opportunity to develop programs that aim to reverse negative food- and health-related trends by:
Modeling healthier, more sustainable food choices for patients, employees, and visitors while also saving money by reducing food waste and stewarding natural resources.
Maximizing hospital purchasing power to increase the availability of local, sustainable foods within the hospital and by extension, in the community.
Leveraging programming and investments to address social and environmental determinants of health by increasing healthy food access for patients, staff and visitors while also building healthy, sustainable, and equitable food systems for their communities.
In response to these calls to action, Stony Brook Medicine has taken a series of actions, including:
The Hospital Nutrition Division sponsors Kids' Cooking Classes every summer to reach young community members and their families with sound nutritional education. In 2021 two classes were offered for 6- to 8-year-olds and 9- to 11-year-olds. Kids harvest produce and herbs from our farm and prepared meals and snacks while learning about sustainable growing practices. The classes were well-received by the kids and their parents.
The Hospital Nutrition Division also worked with Healthier U to develop virtual nutrition activities for staff. They also worked with SBM Social Media Manager to post weekly recipes and tips on the SBM social media outlets.
Every May, a seedling fundraiser is held to support the Stony Brook Heights Rooftop Farm. Seedlings were also donated to the non-for-profit Options for Community Living, a residential program for mentally impaired adults, and the Shinnecock Nation's community garden.
Stony Brook Heights Rooftop Farm, despite COVID restrictions, harvested almost 1300 pounds of produce.
Employees participated in the Natural Earth Organic Farms during the 2021 growing season, receiving farm shares from June through October.
The Hospital Nutrition Division is planning to develop a Culinary Medicine program for medical students in 2022.
Food Service has decreased the quantity of meat and poultry purchased by almost one half from 2016. They do this by decreasing portions sizes, substituting with seafood and whole plant-based proteins like beans, nuts, seeds, and soy.
More than 20% of their food and beverages are sourced locally. They are focused on expanding sustainable food and beverage options.
While there is still much work to be done, Stony Brook has taken decisive steps towards "greening" our food options.
In our cafeteria, we changed the placement of beverages to encourage healthy choices. All the poultry served is antibiotic-free and we purchase all our green leafy vegetables direct from a local farm. We promote the use of tap water, with a water bottle filling station available to staff and visitors. Our food donations to a local charity are helping us reduce food waste.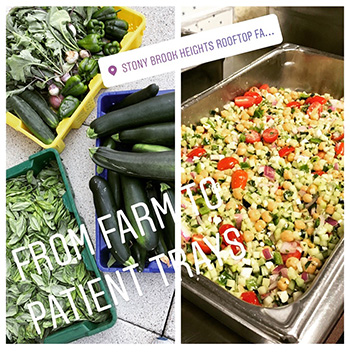 We offer reusable beverage containers and reusable takeout containers. Diners can purchase a reusable container for $5. When they return it, they can exchange it for a new container or get a token for a container to be picked up later on. Diners will receive a $5 refund at the end of the semester if they return their container or token.
We offer an online Masters of Science degree in Nutrition, with a new concentration in Sustainable Food Systems and Health. We give a presentation, titled "Nutrition Therapy in the Outpatient and Inpatient Settings", to internal medicine residents here at the hospital. Topics include ways in which our country's food supply has been affected by issues of water, pesticides, plastics, wastewater and animal feed.
For the community, we offer tours of our rooftop farm, cooking classes, fitness/weight management programs, and menus/recipes for cooking with farm stand ingredients.
We run a farmers market and a CSA (Community Supported Agriculture) program in collaboration with a local organic farm.
We encourage our food suppliers to improve their tracking and traceability of local foods and beverages – in their ordering, invoicing and reporting systems – to ensure that the foods and beverages are local.
Recognition: 
Our retail manager was named one of 16 Top Food Service Heroes by Food Service Magazine, celebrating food service heroes in the second year of the pandemic.
Josephine Connolly-Schoonen was named 2012 Woman of the Year in Health by TBR News Media for her work with the rooftop farm. Her efforts also received the Long Island Business Association Health Care Hero Award in 2015, in recognition of our farm-to-bedside model. 
Team:
Josephine Connolly-Schoonen, Michael West
Policies:
Stony Brook Medicine Nutrition Policy