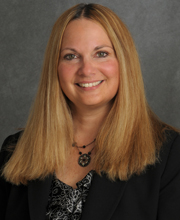 Leadership Talks, Walks and Envisions a Commitment to Sustainability
--Carol Gomes, SBUH Chief Executive Officer/Chief Operating Officer
Leadership Talks:
Here at Stony Brook Medicine, our journey in healthcare sustainability started back in 2009, when the Environmental Protection Agency (EPA) told us about their "Go Green" program. We began a working relationship with the EPA so we could develop sustainability programs that would care for the health of the environment as well as the health of our patients, staff, students and visitors.
Stony Brook University Hospital (SBUH) was the first hospital in the nation to pledge to reduce its environmental impact through a Go Green Memorandum of Understanding agreement with the EPA. The signed agreement outlined extensive goals and strategies to reduce energy, conserve water, recycle solid waste, and implement Environmentally Preferable Purchasing and green landscaping. The pledge was signed in August 2009, and was a five-year commitment, which we completed in 2014.
We realized, however, that we were just getting started. We decided to push forward and continue our serious, long-term commitment to sustainability. Stony Brook Medicine leadership committed to and supported these sustainability efforts, through public pledges to protect our environment (for example, eliminating DEHP/PVC in medical devices, where possible) and patients.
We had already become members of Practice Greenhealth, a national organization that promotes best practices in environmental stewardship. We began building a robust healthcare sustainability program, inspired by eight guiding principles set forth by Practice Greenhealth: Less Waste, Safer Chemicals, Greening the OR, Healthy Food, Environmentally Preferable Purchasing, Energy/Water Conservation and Green Building. Each initiative was assigned a leader, a team, and a set of reporting metrics to develop an annual strategic plan and set goals.
Leadership Walks:
We developed a solid structure of reporting sustainability results. Our Healthcare Sustainability Committee was redesigned, as part of our Engaged Leadership efforts. Reporting is done on an annual calendar year basis; strategic goals are reviewed for completion and new goals are developed for the next reporting year.
The Stony Brook University Hospital Sustainability Program has had a great deal of success. In our last EPA Memorandum of Understanding report, dated June 8, 2016, it was documented that during five years and 11 submitted updates the EPA received documenting our progress, SBUH reduced its carbon footprint by 21,835 MTCO2e and saved an estimated $1,199,193 in operating expenses. The EPA MOU program ended, but our commitment and sustainability journey continues.
The Stony Brook Heights Rooftop Farm maintains 36 raised beds and helps produce about 800 pounds of produce including tomatoes, peppers, cucumbers, kale, swiss chard and herbs. This produce ends up on inpatients' plates.
We continue our focus on combating climate change through planned energy-saving initiatives to create an energy efficient infrastructure. Energy-efficiency upgrades is one of the ways we reduce our greenhouse gas emissions saving costs and fighting climate change. Our committment to sustainability closely aligns with the State of New York and SUNY along with having a positive impact our environment.
We continue to be recognized for our innovative environmental programming. We have received many awards for our efforts, including the Vizient Sustainability Excellence Award, Making Medicine Mercury Free Award, EPA's Environmental Quality Award, Sterilmed Best Practice for Environmental Excellence Award and several Practice Greenhealth Partner for Change awards and most recently the NYSDEC Environmental Excellence Award.
Leadership Envisions:
The Hospital received technical assistance in the form of an energy audit and an energy Master Plan by Pres Energy. We completed an ASHRAE Level 1 Comprehensive Energy Audit, which identified projects with the potential for 37 percent energy savings. Architectural Services continues to assess new projects for energy savings. Lighting is being upgraded to LED and perimeter walls are sealed and insulated where needed to conserve energy use.
We increased our cardboard collection, with the addition of a compactor installed at Tech Park. We purchased a Stony Brook red bookshelf to enhance the Department of Patient Advocacy's reuse program, where people donate or pick up gently used books to read and enjoy. In addition, we are looking at spending more on green chemicals and are investigating two product lines that are certified green. Facilities and Construction continues to design to LEED silver criteria.
Sustainability works best when it is a team effort. I am proud to say that by partnering with our staff, patients, visitors, students and vendors, we continue to create a culture of environmentally responsible choices. We continue to build on our success and to improve the environment of care and our surrounding community.
I want to thank all of you for your dedication to the environment we all share.