Greening the Operating Room
Overview: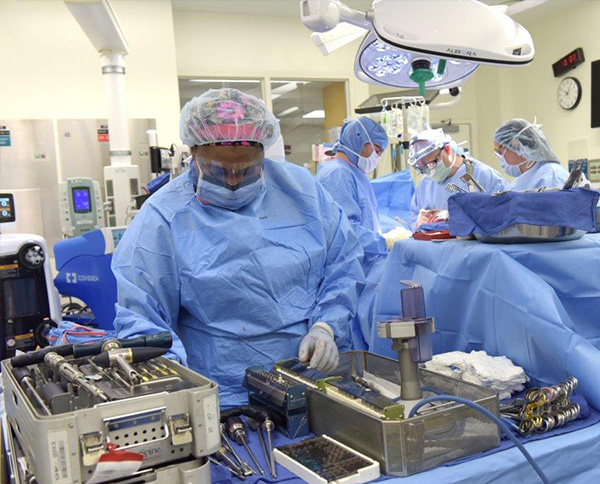 A large quantity of any hospital's environmental footprint is produced by its operating rooms. Studies estimate that between 20-30 percent of the total waste volume generated by a hospital comes from ORs. Operating rooms are one of the largest users of supplies within a hospital. Surgical kits often are wrapped with plastic after sterilization and boxed, and many instruments are individually wrapped – and that ends up in the waste stream. To address these issues, hospitals are exploring environmentally sustainable ways of managing operating room waste including: waste reduction, fluid management, single-use device reprocessing, OR kit reformulation, reusable supplies, LED lighting, more efficient ventilation and medical plastic recycling.
Goals 2021:
Expand reprocessing program - Expand collection of devices to SB Southampton campus. Continue to monitor collections in SBUH and identify areas where additional purchase may be feasible.
Improve plastic recycling - develop plan to capture weight and track accordingly.
Enhance reprocessing program – improve metrics and purchase of reprocessed medical devices through physician engagement.
Increase utilization (>75%) of identified reusable surgical items in the OR.
Highlights:
Recycling is a focus on reduction of waste in the OR and efforts are made on ensuring all used medical supplies are placed into recycling bins. In addition, we encourage the purchase of upcycled medical devices wherever feasible.
We have cut back on our use of "blue wrap" – the plastic material used for wrapping boxes of sterilized surgical instruments – by 30 percent in the past two years. We've achieved this by switching to reusable stainless steel containers, and sterilizing instruments inside them. This not only cuts back on blue wrap, it's a more effective way of keeping instruments sterile in storage until they are needed in surgery. Metal containers hold instruments more securely and keep them from getting jostled and potentially breaking their wrapping which effect sterility.
Stony Brook ORs are working more efficiently, in several ways. Our "Greening the OR" team collaborates with clinicians to review surgical case packs (kits of supplies organized by surgical service). The annual accounting and reporting process identifies instruments not being used, so we can remove them from the packs reducing waste.
We reduced the use of EtO (ethylene oxide) gas, a highly toxic sterilizing agent for surgical instruments. Rather than running hundreds of 24-hour sterilization cycles each month, we now run 30 cycles. We purchased Sterrads – sterilizing machines that use hydrogen peroxide, a cleaner and more efficient sterilizing agent. (Also see Safer Chemicals.)
To conserve energy in ORs, we have installed LED (light emitting diode) lights and completed a temperature setback initiative in the OR. In 2018, ambulatory surgery center setbacks were added. The two hybrid operating rooms were designed with setback capabilities after established operating room hours.
Recognition:
Our Central Sterile Department was named a runner-up for the Central Sterile/Sterile Processing Department of the Year national award from Healthcare Purchasing News. In 2018, 2019 and 2020, the OR received the "Greening the OR" recognition award from Practice Greenhealth.
Team:
Ally Silver, Donna Hoffman, Mike DeMasi, Cynthia Jorgensen, Mary Bennett and Ken Rosenfeld