Engaged Leadership
Overview:
The primary responsibility of those engaged in healthcare is to heal and to promote human health, but hospital operations can have large-scale negative effects on the natural environment. It has been established that energy usage, waste and toxic chemicals have a direct effect on public health. So healthcare facilities are taking the lead in correcting and preventing their negative impacts on the environment — while at the same time implementing ways to operate more efficiently and cost-effectively. We worked to meet the New York State mandate of a 20 percent improvement in our energy efficiency by 2020.  The organization Practice Greenhealth has found that the most successful environmental sustainability programs in healthcare facilities have support from their leadership. 
Engaged leadership in environmental sustainability programming includes building a team (with team leaders), using a set of reporting metrics, developing an annual plan and setting goals, and communicating success stories.  In 2020, Stony Brook University Hospital received the Top 25 Environmental Excellence Award, the nation's premier recognition for environmental performance in the healthcare sector.  This award is Practice Greenhealth's highest honor for hospitals; it recognizes healthcare facilities and health systems for their commitment to environmental stewardship and their sustainability achievements.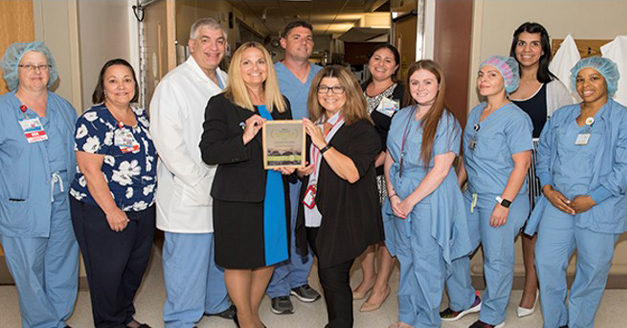 Goals 2021:
Focus on house wide paper reduction by 10 percent.
Use metrics to study the impact of the new medication distribution processes in the Hospital Pavilion with regard to decreasing waste generation and, if successful, mirror in the hospital towers.
Create and implement a sustainable rooftop garden for Pediatrics in the new Hospital Pavilion.
Create a new Clean Energy Plan.
Include a question regarding our commitment to Environmental Sustainability on our employee engagement survey.
Highlights:
Stony Brook University Hospital was the first hospital in the nation to pledge to reduce its environmental impact through a Go Green Memorandum of Understanding agreement with the EPA. The signed agreement outlined extensive goals and strategies to reduce energy, conserve water, recycle solid waste, and implement environmentally preferable purchasing and green landscaping. 
We built a robust healthcare sustainability program inspired through these initiatives: Less Waste, Safer Chemicals, Greening the OR, Healthy Food, Environmentally Preferable Purchasing, Energy/Water Conservation, Green Building and Engaged Leadership. Each initiative has an assigned leader, a team and a set of reporting metrics and goals.  
We developed a solid structure of reporting sustainability results, via our Healthcare Sustainability Committee. Reporting is done on an annual calendar year basis. Strategic goals are reviewed for completion and new goals are developed for the next reporting year.      
Recognition:
Over the years, we've been recognized for our innovative environmental programming. We have received many awards for our efforts, including the Vizient Sustainability Excellence Award, the Making Medicine Mercury Free Award, EPA's Environmental Quality Award, the SterilMed Best Practice for Environmental Excellence Award, Practice Greenhealth Partner for Change, Top 25, Chemicals Circle of Excellence, Emerald and Greening the OR awards and NYSDEC Environmental Excellence Recognition Award. 
Policies:
EC0069 Hospital Recycling and Sustainability
EC0040 Reusable Hospital Surplus Property
LD0105 Clinical Products Request, Standards and Evaluation Program and Process
Team:
Carol Gomes, Colette Brown, Jill Kavoukian, Barbara Boyle