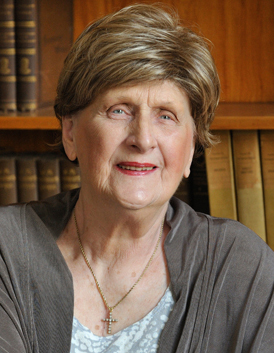 Breast cancer survivor Carol Martineau Baldwin has dedicated her life to finding a cure for breast cancer. A Syracuse native and graduate of Syracuse University, she and her husband Alexander raised their family in Massapequa, Long Island. In 1983, after 29 years of marriage, her husband died of lung cancer and, in 1990, Carol was diagnosed with breast cancer.
These experiences led to her taking a leadership role in the formation of the Central NY Chapter of the Susan G. Komen Breast Cancer Foundation in Syracuse.
Although she had moved back to Syracuse after her family was grown, Carol Baldwin always maintained strong ties to Long Island and, with a sharp awareness of the very high breast cancer rate in the region, formed the Carol M. Baldwin Breast Cancer Research Fund, Inc., in 1996. The Fund is a sole-purpose corporation to raise money for breast cancer research at University Hospital and Medical Center at Stony Brook.
Carol has been joined in this effort by her children: daughters Jane and Elizabeth, and sons, actors Alec, Stephen, Billy, and Daniel. Asking others to join her crusade for a cure, Carol Baldwin is, she says, positive that, "together, we can and will find a cure."
Click here
to visit the Carol M. Baldwin Breast Care Center of Stony Brook Medicine.
[Return to Breast Care Center]