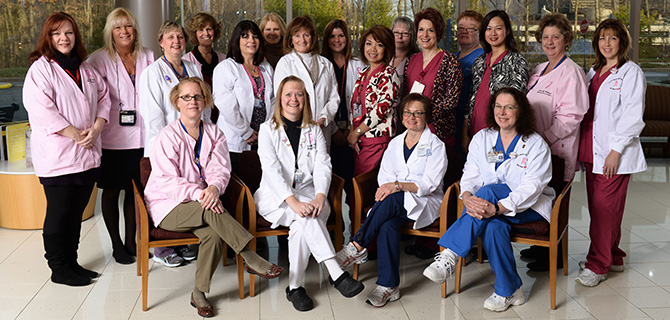 Responding to the special needs of women on Long Island, Stony Brook's Carol M. Baldwin Breast Care Center — named in honor of breast cancer awareness activist Carol M. Baldwin — provides comprehensive management of breast cancer and benign breast disease. It is located in our Cancer Center (map/directions) on the campus of Stony Brook University Medical Center.
The multidisciplinary Breast Surgery Service brings together the expertise of clinical faculty and staff from the departments of surgery; medicine; radiology; radiation oncology; and obstetrics, gynecology and reproductive medicine. Breast surgeons and mammographers work side by side to complete the entire evaluation at the patient's first visit.
The Breast Care Center offers convenient outpatient breast surgery, as well as stereotactic biopsy procedures. Both radiation and medical oncologists are available for consultation. Specialized lymphedema treatment, if needed, is available through the physical therapy department.
Established in 1993, the Breast Care Center continues to serve as the model of the highest quality breast care on Long Island. It was the first of its kind here, and still is the only one of its kind to provide multidisciplinary care.
For more information, please visit the Center's website.