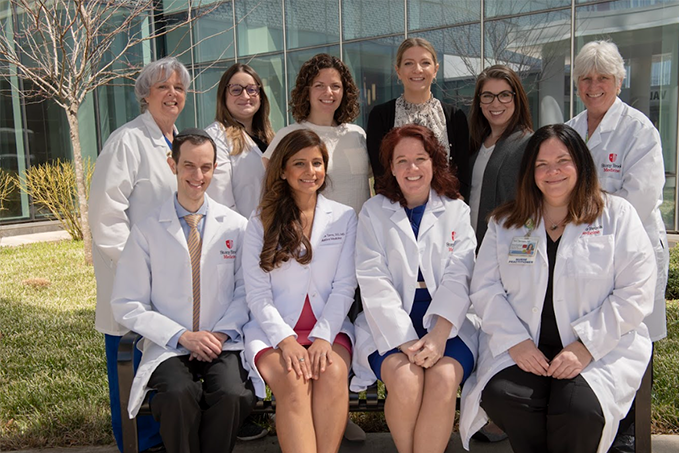 Stony Brook Medicine's Palliative Care Service helps patients and their families cope with the physical, emotional and spiritual distress associated with a serious illness. A specialized team meets with the patient and family members during hospitalization to discuss their needs and assist in efforts to stabilize symptoms and support the care goals of the patient. The interdisciplinary team, which includes specialists from medicine, nursing, social work, and pastoral care, focuses on a "whole person" approach in providing expert and compassionate care.
The Palliative Care Service works closely with the primary treatment professionals from all services and units and assists them in managing challenging symptoms associated with cancer and other serious debilitating illnesses, at all stages, including at the onset of illness.
Palliative care may be needed at any stage of illness, even while receiving active disease directed therapies such as chemotherapy. It focuses on treatment of symptoms such as fatigue, loss of appetite, nausea, shortness of breath and pain (sometimes as side effects of certain therapies); establishing goals and setting priorities about care; assisting with coordination of care, communication, and information sharing; and assisting with working through the healthcare system. 
In recognition of its groundbreaking work, the Palliative Care Service received the National Consensus Project 2009 Quality in Palliative Care Leadership Award. They received Certification of Distinction from Joint Commission in 2013, 2015 and 2017. 
Mission Statement
The Stony Brook Medicine Palliative Care Service is committed to providing access to expert Palliative Medicine to patients with serious illness and their families across our community and region.
We strive to provide state of the art care in accordance with the mission and values of Stony Brook Medicine, New York State Law and National Consensus in the compassionate care of the seriously ill patient.  
For more information, please contact Rohan Shah:
Email: rohan.shah@stonybrookmedicine.edu
Phone: 631-444-2292
Mail: Palliative Care Service, Health Science Tower, level 15, room 053, Stony Brook, NY 11794-8151