Stony Brook University's commitment to social mobility and underserved communities reached an estimated 300 students at Wyandanch Memorial High School during "Stony Brook Day" on April 13, 2018. A panel of 14 undergraduate and graduate students from a variety of programs of study at Stony Brook University educated 8th, 9th and 10th graders from the Wyandanch Union Free School District on the importance of attending college, barriers they faced and overcame to get to college, and opportunities available to college graduates today.
Panelists spoke of their personal driving force to attend college, why they chose Stony Brook University, and what they could have done differently in high school to prepare for college. They discussed their transition from high school and shared words of wisdom and encouragement from their college experiences, future plans and the satisfaction of having multiple career options that a college degree provides.
"Raising awareness of the importance of higher education for young students opens up opportunities for potential career paths that lead to greater success and satisfaction. Students who attend college and graduate school have more career options, access to healthcare, and opportunities to benefit their communities," said Judith Burke-Berhannan, Dean of Undergraduate Admissions at Stony Brook University
"The panel discussion is just one step closer towards pushing young students out of their comfort zones and urging them to aim higher and secure college education and beyond," said Yvonne Spreckels, MPA, Director of Community Relations at Stony Brook Medicine. The Department of Community Relations co-hosted the event with the Department of Undergraduate Admissions at Stony Brook University.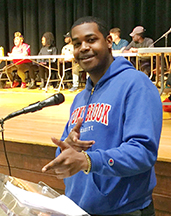 Randy Ferguson, Stony Brook University graduate student in the Master of Arts in Higher Education Administration program.