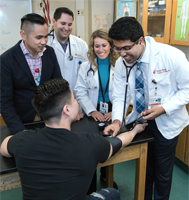 Stony Brook Medicine physicians and medical students went "back to school" on Wednesday, May 3, to inspire high school students from Brentwood and Longwood High Schools to pursue careers in medicine.
Visits to these underserved and ethnically diverse high schools were coordinated by Cordia Beverley, MD, Assistant Dean for Community Health Policy for Stony Brook University School of Medicine and Yvonne Spreckels, Director of Community Relations for Stony Brook University Hospital. Attending and resident physicians along with medical students spoke about their career paths and provided encouragement to the high schoolers.
The second annual event was well-received by students and teachers alike. The students appreciated the insight into what a career in medicine entails. Teachers raved about the event's success in teaching students about medical careers and emphasized the need for continuing this program.
The American Medical Association started the Doctors Back to School program to increase the number of minority physicians with the goal of reducing healthcare disparities. Studies indicate that minority physicians are more likely to practice within minority communities than their white counterparts.
Furthermore, minority patients' adherence to medications and recommended health practices improve if their health provider is also a minority. This reflects the importance of increasing the diversity of our future healthcare workforce.