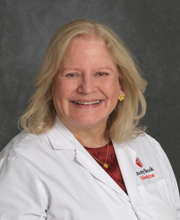 JUDITH STEFANO
When Judith Stefano, RN, is asked to help or volunteer, the word "no" isn't in her vocabulary.
In her previous role as Cardiothoracic Intensive Care Unit Nurse Manager at Stony Brook Medicine and in her current role as Nurse Coordinator, Patient Safety, Judy loves helping patients and staff reach their goals.
She continues this passion in her volunteer work, where she has been donating her time to the Heart Walk and Go Red for Women, as well as community health screenings and school fairs for many years. One of her favorite volunteer moments was partnering with the Suffolk County Homemakers Council, where she and some members of her staff provided screenings and lectures at Council events, while Council members made heart-shaped pillows that were used to help Stony Brook patients' progress clinically after open heart surgery.
For almost 15 years, Judy has volunteered with other Stony Brook Medicine employees at the Mall Walkers program, offering blood pressure screenings, health screenings, glucose monitoring and cholesterol screening at Smith Haven Mall.
Of the Mall Walkers, she says, "The walkers seem to really appreciate the program, and the volunteers get the reward of seeing people who motivate each other and are excited about taking charge of their health."
A Community Service Award winner each year from 2001 to 2015, Judy received a special Distinguished Community Service award in 2011 for providing the most community health screenings that year.