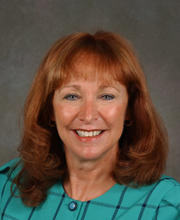 Suzette Smookler, Director of Clinical Nutrition and Education at SBUH, serves in a vital role that may not always be popular but is certainly a vital service to our community: she has been a trustee on the board of the Long Island Power Authority (LIPA) since 2006.
Suzette was reappointed last year by the board, now considered the reformed LIPA board. She knew she would be reappointed when she was presented with a plaque that included the year she started and the end year was blank.
"This is a totally volunteer effort where I have worked very hard on behalf of the rate payers on Long Island and with a commitment to renewable energy," she said. "I have participated on many committees for LIPA and currently serve on the Governance committee. At times this has been very challenging, such as Hurricane Sandy or when rates rise, but I continue to feel I am making a contribution for Long Island."
As a LIPA trustee, Suzette has a fiduciary responsibility to review all the contracts and monitors PSEG's performance. Her primary focus is that of an advocate for rate payers, including advocacy for renewable fuel, such as wind and solar, and better disaster preparedness.