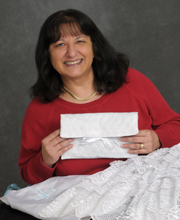 MARYANN RUSSO
One of our most dedicated volunteers is Maryann Russo of the Stony Brook University School of Nursing, who is a very active participant in the Stony Brook Stitchers.
The Stitchers donate hats, lap blankets, christening outfits, prayer shawls, memory pouches and baby caps to patients at Stony Brook University Hospital and the Long Island State Veterans Home. Maryann oversees the group's sewing projects that have been requested for several of our nursing units.
Maryann spends countless hours of her own personal time doing amazing work on behalf of our group for our babies, said Melissa Shampine, TH Staff Assistant, Cardiac Services, who co-directs the Stitchers with Shakeera Thomas, Chapter Assistant, United University Professions (UUP), who oversees participation on West Campus. Maryann purchases fabric and wedding dresses with her own money, washes everything to ensure they are immaculately clean for her creations.
Maryann has designed patterns (as a young woman in Italy, she was a forewoman in a factory) and step-by-step created many of the items we send off to our units. One of her most amazing creations are the Christening outfits that she makes from wedding dresses. She cuts up wedding dresses and makes several Christening outfits embellished with lace, crosses and other symbols. She also has designed the Christening outfits in two separate parts – a front and a back, so that infants with various lines & tubing can easily be outfitted in these outfits, which tie at the shoulders.
Stitcher volunteers come from our staff/faculty, as well as from the greater Long Island community. They knit, crochet and sew items using their own yarn, fabric, supplies and equipment, with very little funding. The group works very closely with leaders of Labor & Delivery, the Mother-Baby Unit, Ante-Partum Unit and NICU to make the Christening outfits, baby blankets, hats, infant demise wraps, memory pouches (to hold baby's footprints, photos, a lock of hair) and snoedels. The group also sends items to Pediatrics, PICU, Pediatric Oncology; Adult Psych, the Cancer Center and the Long Island State Veterans Home – anywhere anyone is in need of comfort.
"Maryann is a valued member of our School," said Lee Anne Xippolitos, PhD, RN, Dean, Stony Brook University School of Nursing. "The same effort she puts into the Stony Brook Stitchers, she puts into her work with our students, faculty and staff at the School.
"There is nothing that she won't do to help our School succeed," Dr. Xippolitos said. "She is talented, patient and compassionate using these skills to assist those who are usually frustrated and frazzled. Maryann's sweet nature most often wins out. Additionally, we can count on Maryann to help support our School in 'all other duties as assigned.' She is well deserving of this recognition."