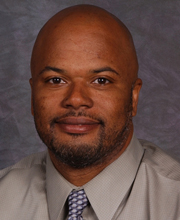 DR. JEDAN PHILLIPS
When it comes to examples of collaborations that work well, look no further than the Stony Brook HOME (Health Outreach and Medical Education) program.
Dr. Jedan Phillips serves as the Medical Director for the program, a walk-in medical clinic for the uninsured that provides learning opportunities to medical students, and healthcare to the community. Full-time medical students at Stony Brook have taken it upon themselves to volunteer their time to make sure the clinic operates efficiently. The students answer phone calls, triage them and respond appropriately. Other students review lab results, set up clinic schedules and orchestrate all of the different aspects of the clinic. It's a cooperative effort with the Dental School, School of Healthcare Technology and Management, Preventive Medicine and School of Social Welfare.
The service is promoted within the community, churches, health fairs and word of mouth. There is also a website, https://renaissance.stonybrookmedicine.edu/stonybrookhome.
In addition to providing comprehensive care to patients, it offer the opportunity for students to develop skills as part of their educational development as young doctors and healthcare providers.
"I really feel fortunate to work with such a consistently talented group of students," Dr. Phillips said. "Just as much as people can say that I help them, they've really enhanced my career also."