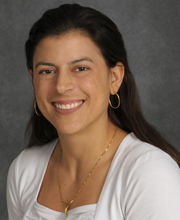 SARAH ROSE PESTIEAU
Over the past five years, Dr. Pestieau has gone on overseas assignments as a doctor with Doctors Without Borders, an international Non-Governmental Organization (NGO) that abides by its three principles of neutrality, impartiality and independence. She has spent from three to six months in the Central African Republic, Ivory Coast, Pakistan, Syria and most recently Ethiopia.
Whereas her job at Stony Brook puts her geriatric skills to work in a familiar environment with the latest in medical technology, her work abroad tests her ability to adapt, to work without many resources, and to treat children. She has been exposed to malnutrition, malaria, mass casualty events, a population torn by war, and corruption. In the midst of these difficult situations, she has been able to help people in distress and without access to healthcare except for that offered by NGOs.
Before her assignments with Doctors Without Borders, Dr. Pestieau volunteered at the SB HOME clinic, soup kitchens, and health fairs. She taught English as a Second Language and went on short-term medical missions to Ecuador and Guatemala.
Her volunteerism personifies the spirit of Michael Maffetone, DA, for whom the award is named. Dr. Maffetone was Director and Chief Executive Officer of Stony Brook University Hospital from 1994-2000. He was deeply committed to community service, especially for the underprivileged and underserved, and was instrumental in expanding the Hospital's community service programs.
To honor his memory and legacy, Stony Brook University Hospital instituted the Michael A. Maffetone Community Service Awards to honor an outstanding East Campus staff member who exemplifies his commitment to community service.
Dr. Pestieau says that "Everyone should work abroad in an underserved area at some point of their life, not as a doctor, but as a human being… places where people have no access; they have nothing."