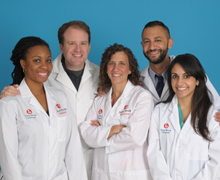 Four of our Pediatric residents – Ahmed Erakat, MD, Ronke Adefisayo, MD, Gabriel Struck, MD, and Ruchika Mohla, MD – and their faculty advisor, Pediatric Hospitalist Traci Downs, MD, have just returned from a four-week global health elective in the "Pearl of Africa," Uganda.
This is Stony Brook Children's fifth global health elective experience in Africa, and third in Uganda. The elective experience is part of a broader global health curriculum started by Dr. Downs.
Working with two NGOs, (Non-governmental organizations), the team worked in governmental Health Centers where the pediatric residents saw over 150 patients some days. In addition, the team used each day to educate the community about newborn care, sanitation, hygiene, and nutrition.
To leverage the expertise Stony Brook Children's brought to the region, our physicians participated in a "Master Trainer" project to train the non-physician healthcare workers who typically provide the bulk of pediatric care in Uganda. Using skills stations and didactic teaching, followed by OSCE assessments on the day of teaching and two weeks later, the residents were able to train more than 30 healthcare workers.
One of the resident's, Ahmed, summarized the trip best, "When I applied to go on this trip one of the questions I had was, 'How with only a stethoscope, can I help an under-resourced population?' My time in Uganda has answered this to a great extent. Much of what is needed in these communities is education and manpower. This we were able to give, as well a new perspective to both patients and the local doctors."
Our NGO host added to Ahmed's conclusion, "Your visit to us, to travel so far from home to help us, inspires us and gives us hope- we treasure your 'smiles of hope.'"
Stony Brook Children's next elective trip to Uganda will take place April 2016.
(From left to right are Dr. Ronke Adefisayo, Dr. Gabriel Struck, Dr. Traci Downs, Dr. Ahmed Eraka and Dr. Ruchika Mohla.)