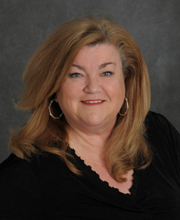 LEE ANN BRILL
Lee Ann Brill, Contract Officer II in Hospital Purchasing, is passionate about the power of song to change lives. She donates her time to sing the National Anthem and the Star Spangled Banner at such charity events as the Walk for Beauty and walks to benefit childhood illnesses.
When Lee Ann discovered an organization dedicated to sending care packages to the nation's troops overseas, Jacob's Light Foundation, she created a CD of one of her concerts that the organization sold to cover the cost of additional care packages.
Lee Ann continues to donate her talents to organizations that support both active military and veterans. She can be seen at events for the Long Island State Veterans Home (LISVH) and opening ceremonies and parades for the Veterans of Foreign Wars (VFW). She even received a commendation from the VFW for volunteering to sing at so many of their events.
Now Lee Ann is working on a new CD and is putting together a jazz ensemble, but she still finds time to perform at charity events.
"If you have something you can give back to the community, whatever it is, you should pay it forward," she said.