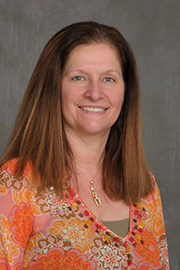 MARY BRADLEY
Mary Bradley, AuD CCC-A, Director of Speech and Hearing donates 20 hours of her time each week to Wing and a Prayer Animal Rescue.
She started in 2011 when she ran into a friend from junior high school at one of the rescues and began volunteering on the weekends. Soon after, her friend asked her to manage the Pet Smart rescue in Port Jefferson Plaza on Route 112. Since then, about 175 cats have been adopted.
Mary manages about 24 volunteers at the center who donate time seven days a week in the morning and evening.
What drives Mary to do this? "I love cats, she says. "It isn't an option for me. I just have to do it."
Mary has done rescue work on her own. Sometimes she catches the kittens and brings them home. Cats that never become friendly enough to be adopted end up staying with Mary. Rescuing and caring for unwanted kittens and cats is a wonderful service to the animals and our community.