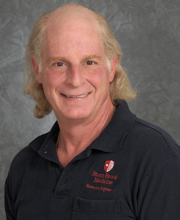 Ray Bozello, Senior Biomed Engineering Technician in the Biomedical Engineering department, loves dogs and is an extraordinary pet owner and animal advocate.
Ray currently has three dogs, but he has had as many as nine of his own at one time. His devotion to man's best friend is extraordinary because of what he does with the Responsible Solutions for Valuable Pets (RSVP) rescue group, where he rescues and rehabilitates dogs through training. Ray is the RSVP Treasurer; he oversees the group's finances and spending.
Ray and other group members visit low-income neighborhoods of eastern Suffolk, such as "the Greens" of Riverhead, the Indian reservation in Mastic and Shirley, certain areas in Flanders, and North and South Forks, seeking animals in distress. He takes the heavy chains off the dogs and uses cables instead, and provides food, medical care, advice, shelter and training. In extreme cases, Ray literally takes the dogs with him, rehabilitates them, and then adopts them out.
RSVP also provides volunteer walkers that go to Riverhead, Southold, North Fork, and Brookhaven shelters to walk the dogs. Ray checks the shelters for extreme case dogs to see if he can rehabilitate them.
Since its inception, more than 1,000 dogs have been adopted through RSVP. Ray has personally rehabilitated and adopted out nearly 40 dogs. He has transformed his detached two-car garage into an indoor/outdoor, climate controlled dog kennel that's big enough to keep five very large dogs safely and comfortably while being rehabilitated. He also has five outdoor pens, a 50-foot by 70-foot training yard with an agility course, and acres of woods where he takes the dogs on long walks every day.