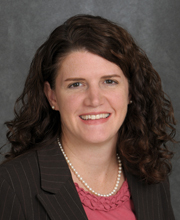 JENNIFER BAILEY
Jennifer Bailey, Senior Financial Analyst, Department of Finance, has been volunteering with the Boy Scouts of America for more than two years. Jennifer served as Cub Scouts Pack 64 of Coram and is now the Pack's Committee Chair responsible for the administration, oversight and support of the Pack program for over 30 boys.
The program focuses on citizenship, personal fitness and character building part of which is community service. Every year, the Coram Pack organizes a food drive called Scouting for Food, a Suffolk-County-wide initiative. Last year they collected over 8,000 pounds of food. The food is sorted, bagged, packaged and divided among four food pantries.
The scouts participate in several other annual community events, including visiting Calverton Cemetery and placing memorial flags on the graves. As part of earth day, the boys go to the park and pick up all the trash. During the annual Coram treelighting event, they hand out cookies and juice to the community. The boys collect letters written to Santa, and Macy's donates $1 to the Make-A-Wish Foundation for every letter submitted.
"This is a family affair," Jennifer says. "Both of my sons are scouts, and my husband is a den leader. Both of my daughters are involved and will be joining the girl scouts next year."