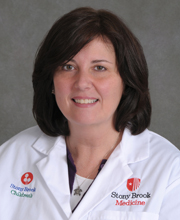 LYNN MARIE ANTONAWICH
One of Stony Brook's very own, Lynn Marie Antonawich, MS, RN, has helped develop a first-of-its-kind resource to help nurses educate parents about their babies' condition and prepare to take them home following discharge from the Neonatal Intensive Care Unit.
Lynn, who serves as Assistant Director of Nursing for our NICU, developed content for a website called www.babystepstohome.com. The site provides evidence-based discharge resources and was designed for neonatal nurses by the National Association of Neonatal Nurses.
This is the first standardized, evidence-based discharge pathway designed for use by neonatal intensive care unit (NICU) nurses. Available to hospitals nationwide, the site provides nurses with evidence-based PDFs for their own education, along with easy-to-understand, editable documents that can be printed and handed to parents following a discussion about their baby's condition.